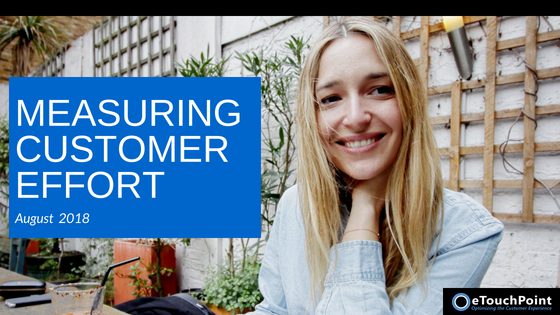 This month, our focus is on a popular CX metric–the Customer Effort Score (CES). Learn why CES should be an important part of your feedback gathering mix with our curated collection of top CX content:
---
Customer Effort Score: A Primer and Recommendation for CX Practitioners
Customers expect convenience. They want instant access to information and hate to wait for service. You can use the Customer Effort Score to find out how easy it is to do business with you–and address troublespots to enhance the customer experience (CX).
Read our blog to get answers to important CES questions:
What is CES 2.0?

Should we use CES–or NPS–or both?

What is a good CES score?
---
A CES Success Story: Natural Gas Utility Accelerates CX Feedback Gathering
CES sounds great in principle, but how does it work in practice? Learn how one forward-thinking natural gas utility redesigned its CX survey approach to understand how customers felt about their experiences. Using a mix of CES, NPS, and open-ended questions, the company gained powerful new customer insights.
---
What's Your Customer Effort Score?
Trusted CX analysts know the merits of CES. In fact, Gartner has named it the #1 must-use metric:
"If you can only measure one thing, it should be effort. Our research finds that effort is the strongest driver to customer loyalty."
Gartner research has also found that lowering customer effort can yield many high-impact benefits:
Improving word-of-mouth about your brand

Boosting repurchase rates

Lowering costs

Increasing employee retention
Learn more about why and how to use CES from Gartner.
---
Even your most consistent customers are likely to defect if they have a bad experience. CX innovators know this truth. Think about CX leaders like Amazon with its one-click ordering and Uber and Lyft who have revolutionized on-demand transportation.
How you can follow their lead? What can you do to lower effort for your customers? Start by identifying pain points where friction occurs–and eliminate issues that cause frustration. More ideas in this insightful article from The Next Web.
---
Author:
Connie Harrington
Connie is a content strategist and serves as managing editor of the eTouchPoint blog. Possessing 15+ years of international experience across five continents, her focus areas include: customer experience management, customer contact management, communications planning, content marketing, email marketing, and employee engagement. Previously, she held marketing and communications leadership positions at CGI, Mindwrap, and TEOCO. She earned a B.A., cum laude, from the College of William and Mary in Virginia.