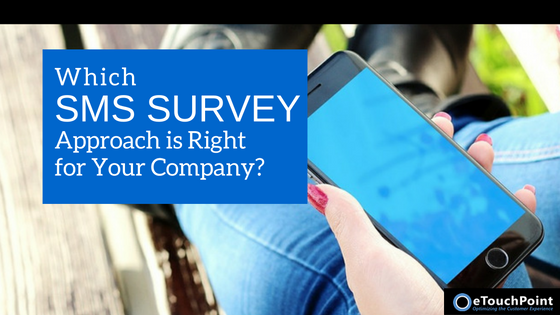 Texting has quickly become a dominant form of communication for adults. Each day, mobile phone users send more than 20 billion SMS messages, which equates to more than 7.3 billion each year.
Those are impressive statistics, but do not prove the compelling case for business adoption of SMS messaging. However, other facts demonstrate that SMS is an optimum channel for business communications. According to a recent study from Dynmark:
SMS messages have a 98% open rate.
Mobile users read 90% of all text messages within 30 seconds after their receipt.
Research has also validated strong conversion rates for promotions.
What about SMS surveys? Consumers are apt to respond to those as well. Smart Insight research found that 31% of customers readily respond to SMS surveys, with an average response time of five minutes.
Clearly, SMS usage rates are high, with SMS surveys emerging as a strong information gathering channel for customer experience (CX) programs. To make the most of their SMS investment, brands need to understand the two primary methods for gathering feedback via SMS—the link-to-web approach and the back-and-forth approach. Armed with this insight, they can choose the right approach for their organizations.
The Link-to-Web Approach
The first SMS feedback gathering model—the link-to-web method—mirrors the approach commonly used for email surveys. A company can send an initial survey invitation to customers via text, then follow-up with a link to an online survey.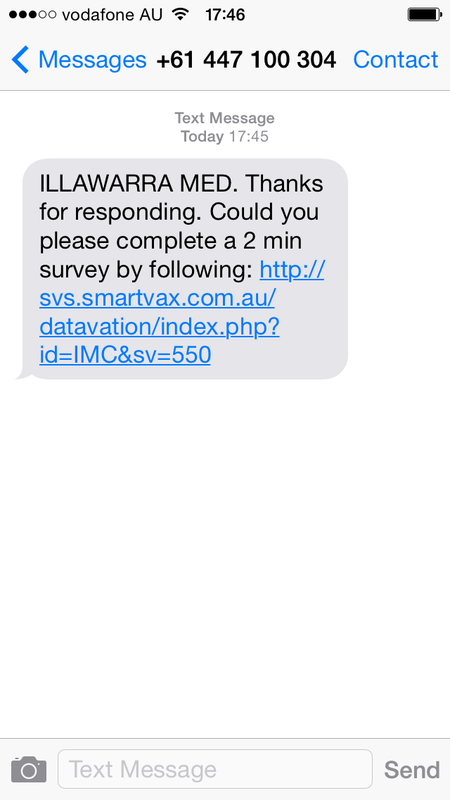 Image Source: SmartVax
The clear advantage of this method is that companies can leverage smartphone adoption rates and provide a feedback gathering model that has a strong call to action and good user experience. In addition, companies can reuse surveys designed for the web instead of creating a new design for SMS. Often this results in better survey presentation, along with opportunities for more in-depth data gathering.
On the downside, the link-to-web method creates a multi-step process that may deter some customers from responding. When considering this method, companies need to weigh the benefit of potentially collecting richer insight from fewer customers—but risk losing attention of some of their target audience.
The Back-and-Forth Approach
With the back-and-forth SMS approach, companies can design surveys that take advantage of the conversational nature of SMS. This involves designing a series of questions that progressively gather information from customers.
If a customer willingly answers one question, they receive the next question. At any time, customers can stop responding and end engagement with the survey.
Typically, a back-and-forth survey begins with an invitation. Companies can ask if a customer would be willing to answer a few questions about a product or service.
If the customer responds affirmatively to the insight, brands have an open door to collect insight.
One advantage of back-and-forth surveys is that companies can use the same closed-ended scale they rely on when soliciting input via other channels. Instead of offering clickable options, as they would in a web survey (e.g., the image below on the left), SMS surveys ask the customers to type their input based on a defined code, often a numeric scale (as shown in the right image below):

Image source: Quora
Another benefit: brands can leverage standard metrics frameworks—such as NPS, CES, and CSAT—and capture insight via SMS.
Depending on a customer's response, the next question can thank them for a positive score or acknowledge a negative result. In either instance, companies can continue with either another closed-ended question or an open-ended one to collect more information about the customer's prior answer.
The open-ended nature of SMS surveys can pose a challenge, however—if not thought through in survey design.
How? In the example above, the survey requests only a single numeric digit from the customer. Still, the respondent can type supplemental comments along with the number. If the next, scripted contact in the survey takes into account the number only—but doesn't acknowledge the written feedback—the customer can feel unheard.
Consider this example from CX thought leader, Bruce Temkin, who responded to a survey sent by a resort he was visiting: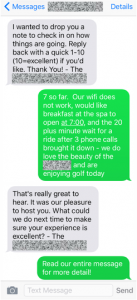 Source: Temkin Group
Although the numeric score was high, Temkin provided comments about how the experience  could be better. The next query in the survey script overlooked that he had provided a comment and asked for feedback. This could easily frustrate a reasonably happy customer and foster negative perceptions of the experience and the brand.
What can brands do to prevent such a mishap? Understand that customers can provide more information than requested—and develop processes to follow up on customer comments.
Reaping the Benefits of SMS Surveys
Whichever SMS approach they choose, businesses can tap into the popularity of texting to gain valuable insight about their customers. SMS surveys offer several key benefits to companies that use them:
Boost Brand Awareness and Reputation: Even if customers do not engage with an SMS survey, they are likely to see the survey invitation. This can send the message that the brand cares about customer opinions—and cultivate feelings of good will with customers. By contrast, email or phone surveys are easy to miss and may not gain customers' attention.
Make Feedback Gathering Effortless: The best SMS surveys are short and easy-to-complete, which makes them easy for customers to complete anywhere. Since many people have their phones near them 24/7, they can complete an SMS survey in minutes, whenever they have downtime.
Gather Insight Across Demographics: While SMS is often the domain of the young, texting is the top method of communication for U.S. adults under 50. And other research affirmed that adults over 70 send texts at least one time per week.
SMS is ubiquitous. And SMS surveys are an essential element of a well-rounded CX feedback gathering program. Selecting the right SMS survey approach is important—but taking action on customer feedback ensures companies continually evolve their products, services, and CX approaches to meet customer needs.
Author:
Connie Harrington
Connie is a content strategist and serves as managing editor of the eTouchPoint blog. Possessing 15+ years of international experience across five continents, her focus areas include: customer experience management, customer contact management, communications planning, content marketing, email marketing, and employee engagement. Previously, she held marketing and communications leadership positions at CGI, Mindwrap, and TEOCO. She earned a B.A., cum laude, from the College of William and Mary in Virginia.