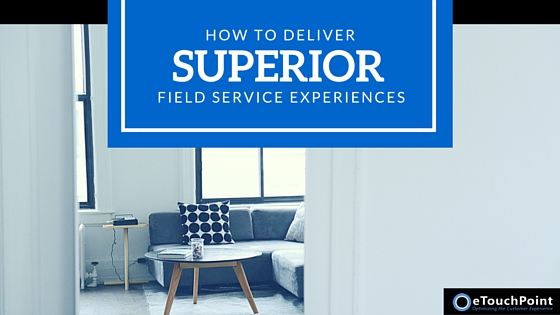 Customers want an effortless, personalized interaction regardless of how, when or where they interact with a company. That expectation magnifies when the interaction is a field visit by an employee to a customer's home.
Historically, though, field service has had a notorious reputation for less-than-stellar in-home service.
One notable example is the common practice of giving out broad appointment windows that cause customers long waits at home. How big is this problem? A study by IBOPE Zogby and TOA Technologies found that waiting for in-home appointments cost U.S. workers more than $37 billion in a single year.
Fortunately, that study also found a silver lining. Seventy percent (70%) of customers would recommend a service provider to others if their field representative arrived on time.
The opportunity is clear: effective field service can impress customers, earn their trust, and turn them into brand supporters.
So how can companies achieve this? They must understand the top field service customer "pain points"—and implement strategies to monitor, assess, and improve the customer experience (CX).
Address the Top Customer Complaints About Field Service
Long in-home waits are not the only source of customer frustration. Industry research from The Service Council (TSC) revealed the top customer complaints about field visits: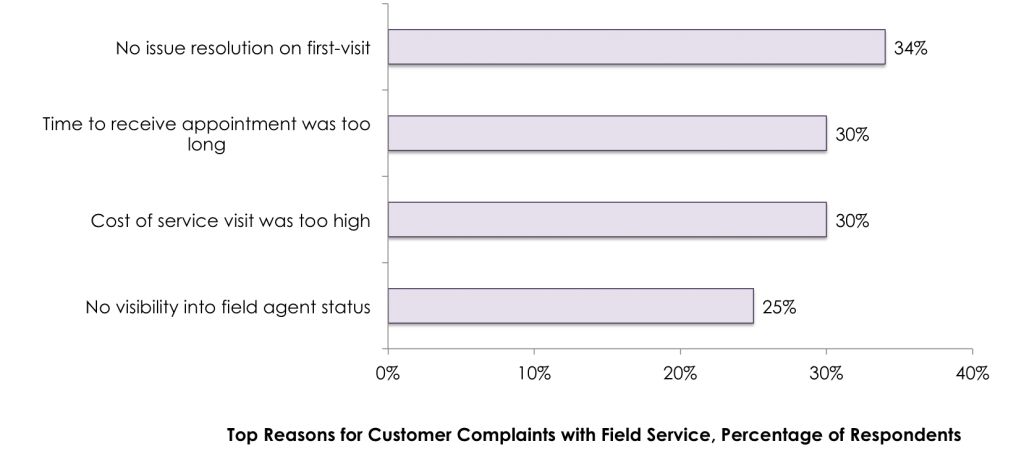 The Service Council, 2014
Based on these trends, companies need to ensure their field service practices address these top four customer pain points.
Aim for a First-Time Fix
If customers need in-home service, they want the work done right the first time. That means a service rep must have all the necessary supplies and skills to get the job completed.
Research from the Aberdeen Group reveals that the best field service organizations achieve nearly a 90% first-time fix rate. Average companies achieve 80% first-time fixes, with laggards at approximately 60%.
Aberdeen research also validated that first-time fix rates have a measurable impact on customer satisfaction and customer retention.

Aberdeen Group, 2013
In addition to making customers happy, first-time issue resolution has the added bonus of eliminating additional truck rolls –  a significant cost-driver for many field service organizations.
Give Customers More Control over the Visit
Today's empowered customers want service when they want it—instead of being at the mercy of the service provider.
Companies can address this trend by making it easy for customers to schedule appointments and letting them select preferred appointment timeframes. In recent years, organizations have begun implementing self-service portals that allow customers to manage their accounts—including options to schedule, change, or cancel in-home appointments.
To tackle the issue of long wait times, field service businesses should start leveraging technologies that allow them to offer narrower, more precise appointment windows.
Set Clear Cost Expectations
Customers do not like being surprised by the costs of service—especially when unexpected break / fix issues occur. And customers notice when routine field visits seem shorter and more efficient, but service fees rise.
While companies may not be able to provide accurate estimates before representatives visit a site, openness and transparency in pricing can help prevent "sticker shock."
Keep Customers Informed of Agent Status
Waiting at home for a service rep to arrive can be a frustrating experience for customers. Companies can alleviate this pain by using technology to deliver up-to-date insight on service rep ETA.
Comcast (TechETA) and Time Warmer (TechTracker) have both made news with their technician tracking apps.  These apps provide status updates on tech arrival times and also let customers track the tech's location on a map. In addition, technician tracking tools provide features such as real-time updates on delays and easy ability for customers to rate service after each visit.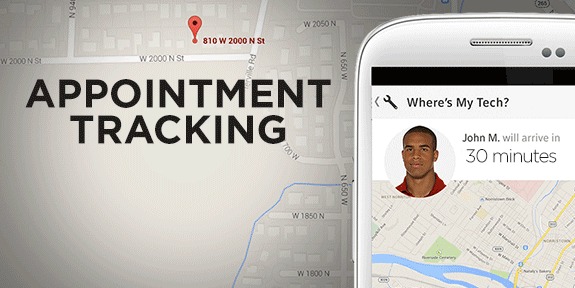 Comcast, 2016
Give Customers a Voice—and Take Action Based on What They Say
Understanding general trends about where companies fall short in field service CX reveals the big picture. Organizations need to take the next step of collecting feedback from their customers and using it to shape their field service operations.
Give Customers a Voice
Companies should invite feedback from customers after every field visit, using a mix of closed-ended and open-ended questions. The questions should be focused on service aspects that are important to the customer (e.g., first-visit resolution) AND actionable by the company.
To reach all customer demographics, companies should collect insight through several modes, including IVR, SMS, and email/web.
Stay on Top of CX Performance and Take Action
Businesses should review CX results daily—and grant the entire field service team access to performance data. This approach will raise the profile of the CX program and key service principles, while driving accountability throughout the organization.
In addition, companies need to assess performance across as many segments as possible, including:
Organizationally: At the company, region, team, and individual levels.
Product: By product and key processes (e.g., arrival time) within each product line to uncover issues that may not be obvious in summary results.
Customer: By geography and customer spend
By gathering feedback and then identifying service themes and areas for improvement, companies can use the insights to deliver training/coaching and develop industry-best field service processes.
Companies can also use CX feedback to understand service shortfalls and wins. Today's best-in-class CX programs have processes in place to:
Identify and Manage Unhappy Customers:  Taking swift action on poor customer feedback can avoid unwanted escalations or reputation damage. How do CX leaders achieve this? They establish alerts highlighting negative customer survey responses to and send them to field service managers for analysis and follow up. To motivate issue resolution and promote consistent customer treatment, set time-sensitive goals for outreach and resolution with unhappy customers.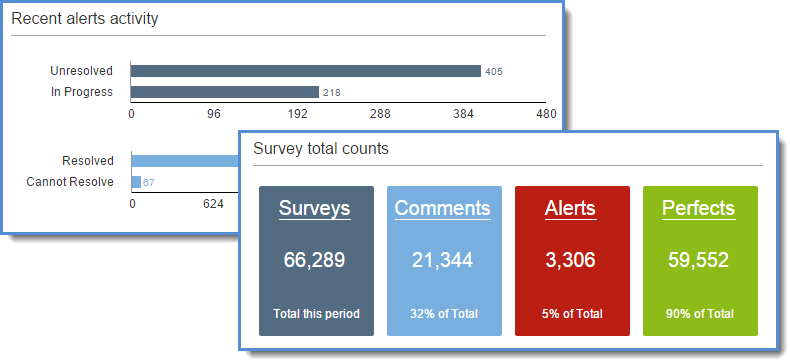 eTouchPoint, 2016
Recognize Exceptional Performance: Industry-leading CX programs know that highlighting positive results is just as vital as addressing negative feedback. They innovate ways to highlight superior team and individual performance. One best practice is sending alerts to managers to spotlight customer praise after a field visit. Also, innovative brands establish practices to recognize and reward star performers—such as commendation letters from executives or internal news alerts.
Create a Superior Field Visit Experience
Field service teams have significant power over customer perceptions. Often, these professionals step into customers' homes to resolve an issue that affects customers' daily lives.
Companies with field service operations need to take a hard look at what customers do not like about field visits. They need to examine cross-industry trends and listen to the voices of their own customers. And they need to then apply proven customer experience (CX) strategies to measure and monitor the experiences they deliver.
Taking these actions can provide companies with a competitive advantage that drives higher levels of customer satisfaction while lowering costs within their field organization. Companies can achieve consistently high levels of field visit excellence and distinguish themselves as a customer-centric service leader in their industries.
Author:
Connie Harrington
Connie is a content strategist and serves as managing editor of the eTouchPoint blog. Possessing 15+ years of international experience across five continents, her focus areas include: customer experience management, customer contact management, communications planning, content marketing, email marketing, and employee engagement. Previously, she held marketing and communications leadership positions at CGI, Mindwrap, and TEOCO. She earned a B.A., cum laude, from the College of William and Mary in Virginia.