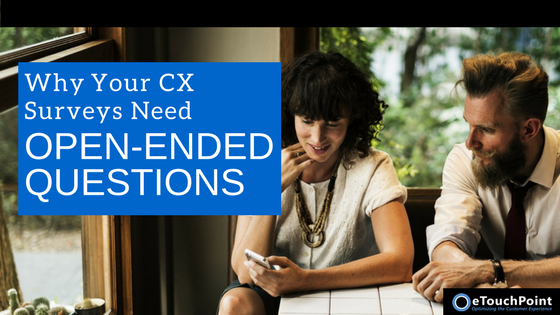 When designing CX surveys, companies often pay close attention to selecting the right mix of closed-ended questions. They may weigh the pros and cons of popular industry metrics—such as NPS, CSAT, or Customer Effort Score—and consider their own measurement needs.
However, it's easy to overlook a feature that should be a vital part of every survey—open-ended questions that solicit voice of the customer (VoC) feedback.
The reason? Open-ended questions can quickly produce large amounts of unstructured information—and it can be hard to know how to use it. Many companies are struggling with this issue today. According to recent research from CX think tank, the Temkin Group, less than 25% of companies believe they are successful at making changes to their business based on VoC insights they collect.
Also, the Temkin Group reports that less than 14% of companies have reached the highest two tiers on their VoC maturity model. Forty-six percent (46%) of companies are still in the bottom two tiers.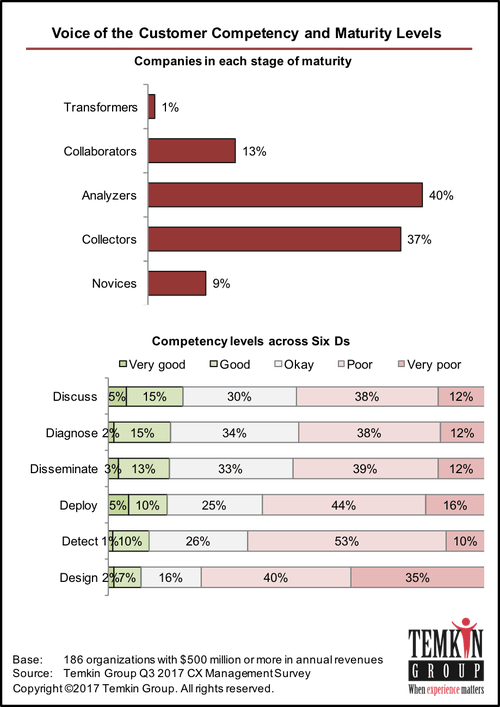 Source: Temkin Group
Although sticking with closed-ended survey questions is an easier path, you shouldn't neglect the immense business value VoC feedback has to offer. Here are three reasons why you need to gather open-ended feedback in your CX surveys.
1. You Give Your Customers a Chance to Feel Heard
CX has long been a data-intensive discipline, but companies are starting to realize the undeniable emotional element tied to every customer experience. A survey that only asks customers to package their feelings about an experience in predefined survey scales is limiting.
Even as companies work out processes to interpret VoC insights, offering options for customers to articulate their feelings in their own words is valuable.
Here's why: it gives customers a chance to feel heard.
For many customers, a simple question that allows them to share how they feel can make them perceive a company listens to and values their feedback. And those perceptions matter.
CX industry research has found that a primary reason that customers stop doing business with a brand is because of "perceived indifference." In fact, 68% customers leave because they feel a company doesn't care about them.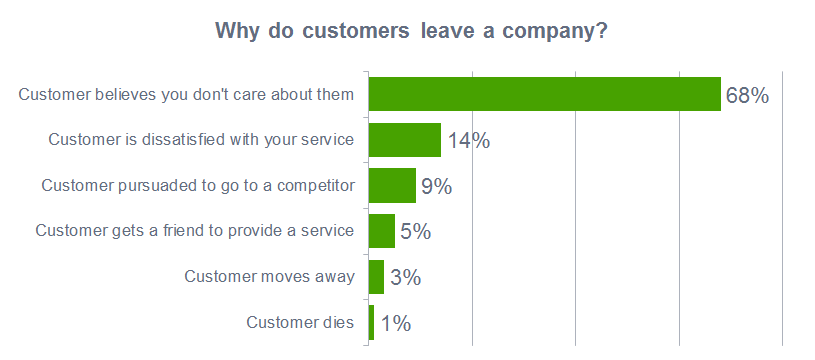 Image Source: LinkedIn
When you give customers a chance to provide open-ended feedback in your CX surveys, you give them a voice. That can help a customer feel like you see them as a person—not just a transaction.
2. You Can Learn the Meaning Behind the Metrics
Gathering open-ended feedback is an important first step in every company's VoC journey. Using the insight to drive meaningful business change is far more powerful.
It can take time to develop processes to analyze all and extract meaning from the VoC feedback you capture. However, you can focus your efforts by using customer comments to understand specific components of your business.
One company we've worked with—a Fortune 500 financial firm with a large service footprint—did just that. CX stakeholders noticed that survey scores for certain customer segments were falling—and churn in those segments was rising. They engaged us to perform a customized segmentation analysis on verbatim customer comments in tens-of thousands of IVR and web-based surveys.
We looked at key themes associated with the highest and lowest customer satisfaction (C-SAT scores), along with assessing feedback by product and customer type. This gave us insight into why certain customer sets were likely to be dissatisfied or to churn.
Our analysis revealed that many of the unhappiest customers were confused about the company's fee structure. Those customers had a hard time discerning the connections between the fees they paid and the value they received. Also, many customers had questions about whether certain services were included in the fees they paid. We also saw many instances where customers left adequate scores on closed-ended survey questions—but expressed their dissatisfaction in freeform comments.
Importantly, we found that new customers were more likely to express confusion about fees and be price-sensitive—and more likely to defect. In addition, we found that tenure directly correlated to an employee's ability to build rapport and explain the fee structure to new customers.
Based on our sentiment analysis, the company was able to address issues that could have caused increasing churn—leading to diminishing market share and a weaker brand reputation. To address these concerns, the firm instituted training initiative to ensure employees focused on relationship-building and clearly explaining fees and associated services. Ultimately, the company used this insight to strengthen customer communications practices in other areas of the business.
As this scenario shows, open-ended comments can reveal important insights that directly tie to business profitability. It's very possible that the answers to your most strategic questions are within reach—in the open-ended VoC feedback left by your customers.
3. You Can Stand Out as a Company That Listens to Customers
As the Temkin Group analysis referenced above shows, most companies are still in the foundational stages of VoC practice. If your company establishes approaches that let you unlock the insights hidden in your verbatim comments, you can make a powerful impression on your customers.
Editor-in-Chief of Entrepreneur magazine, Jason Feifer, knows the power of responding to customers' verbatim feedback. He makes a point of personally reaching out to readers who complain about the magazine:
Readers write me all the time when they don't like something in the magazine — and their notes can be long, angry and come with a threat to cancel subscriptions. But I've developed a theory on what's happening: They don't expect to be heard, so they're speaking as loudly as possible. They're showing up at the door with a battering ram. In turn, I try to reply within hours. I don't often say I agree with them. Usually I just explain why we made the decision we did. But I also make sure they know I heard them, and considered their words.

The reader's response to me is almost always the same. "I didn't think I'd hear back," they'll write. Then they'll promise to keep reading the magazine.
Companies that truly want to take the next step in VoC can use alerting technology that lets key stakeholders know when customers leave negative verbatim comments in CX surveys after an interaction. That way, they can reach out to customers, gain deeper understanding of their concerns, and take the right step to remedy any missteps.
Making the Most of Customers' Verbatim Feedback
 At the earliest stages of a VoC program, gathering customer verbatim feedback offers clear value over collecting just closed-ended information. As your VoC practices evolve, you can adopt more sophisticated techniques to turn the insight you collect into action.
You may find it valuable at first to focus your VoC analysis efforts on a specific business segment, product line, or geography to discern key themes and trends. In time, you can use alerting technology to ensure negative verbatim comments received prompt attention.
Ultimately, asking for open-ended feedback in your CX surveys—and using it effectively—can help demonstrate that you respect the human side of every customer experience. And when customers know that you view them as people, they are more likely to stay loyal and spread good sentiment about your brand.
Author:
Connie Harrington
Connie is a content strategist and serves as managing editor of the eTouchPoint blog. Possessing 15+ years of international experience across five continents, her focus areas include: customer experience management, customer contact management, communications planning, content marketing, email marketing, and employee engagement. Previously, she held marketing and communications leadership positions at CGI, Mindwrap, and TEOCO. She earned a B.A., cum laude, from the College of William and Mary in Virginia.