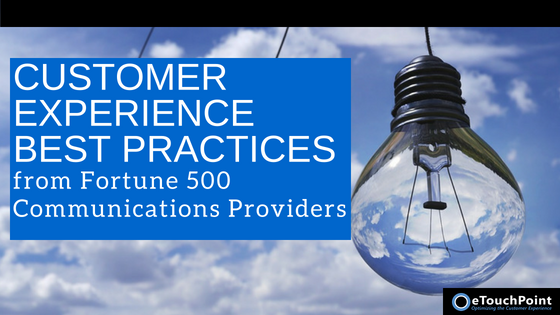 With all the buzz around customer experience (CX), it can be difficult to identify the most important CX best practices. That could be why CX initiatives don't seem to be delivering their promised results—yet.
According to a recent survey from Customer Think, just 23% of respondents felt that their CX programs delivered tangible results.
What can CX professionals do to reverse this trend? Our investigation into CX best practices among Fortune 500 leaders in the U.S. and Canada offers some answers. We discovered nine critical success factors that—when followed—form the foundation of a solid CX program.
Dedicating a CX Leader is One of the Most Important CX Best Practices
The #1 factor on our list is naming a specific individual to lead customer experience efforts. This person will be accountable for leading day-to-day CX program operations. Right now, many organizations are lacking in this area. Research from the Customer Experience Professionals Association (CXPA) and West Monroe Partners found that a quarter of companies do not have anyone dedicated to CX.
Another recent research finding underscores the depth of the disconnect. Just 1/3 of companies say key stakeholders are truly on-board with CX program goals.
In our research, we found that having a devoted CX program lead yielded several tangible benefits, such as:
Measurable improvements in customer satisfaction scores
Increased frontline engagement in CX results
Enhanced focus on driving process improvements
Higher CX program ROI
Lessons Learned from CX Leaders
For more insight on proven practices that lead to CX excellence, download our white paper "CX Best Practices from Fortune 500 Communications Providers." The insights you'll gain are directly relevant across multiple industries—and can help you chart a course to greater CX success.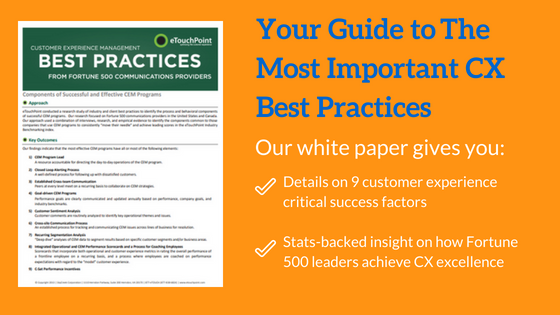 Author:
Connie Harrington
Connie is a content strategist and serves as managing editor of the eTouchPoint blog. Possessing 15+ years of international experience across five continents, her focus areas include: customer experience management, customer contact management, communications planning, content marketing, email marketing, and employee engagement. Previously, she held marketing and communications leadership positions at CGI, Mindwrap, and TEOCO. She earned a B.A., cum laude, from the College of William and Mary in Virginia.