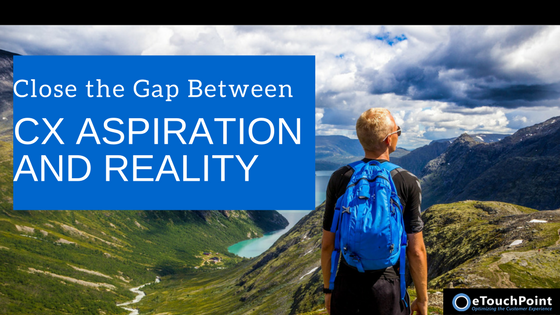 Do today's companies truly deliver a quality customer experience (CX)? Or do they just think they do? How well are companies doing in aligning their CX apsiration and reality?
Research from Bain and Company shows a large gap between organizations' perceptions of their CX competence and customers' actual experiences. In fact, while 80% of companies believe they deliver superior experiences, just 8% of customers feel the same way.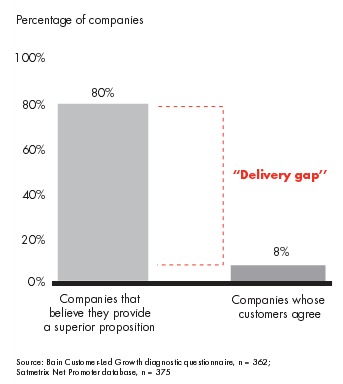 Source: Bain and Company
What is the cause of this delivery gap? It isn't a lack of attention on CX. Analyst firm Forrester confirms that nearly three-quarters of all companies list CX as one of their top priorities.
The issue, then, is not one of understanding or vision. Most companies stumble in execution.
How can companies move from aspiration to reality in CX? Every CX program needs three elements to succeed:
1. Executive Ownership with a Defined CX Mission
2. A Focus on Change, Not Just Numbers
3. Collaboration Throughout the Organization
By following these essential tenants, companies can move their CX programs forward and deliver the standout experiences that customers now expect.
1. Executive Ownership with a Defined CX Mission
Today, most successful companies realize that delivering quality experiences are crucial for growth and success. Even so, the types of experiences companies aim to deliver can be different—as can CX program design.
Ultimately, every CX program needs to articulate a clear CX mission, share it throughout the organization, and translate it into principles that guide behaviors of its frontline employees. That mission should be more than aspirational phrases. Instead, as consulting firm McKinsey & Company explains, a CX mission should be tangible and show how CX is a differentiator for the business:
To build internal momentum for initiatives to develop a unique customer experience, a company must understand how that helps it perform distinctively in the market. The conviction and shared aspiration that stem from understanding the customer experience an organization wants to deliver can not only inspire, align, and guide it but also bring innovation, energy, and a human face to what would otherwise just be strategy. (McKinsey & Company)
Also, since customers are the lifeblood of every business, a CX program needs to be dynamic—and alive. It is easy for any program to slip into stagnation—and CX is no exception.
To avoid this fate, CX programs need an owner who can champion the cause internally and model customer-centric behaviors for the organization.
McKinsey cautions that companies should not limit their view of CX by choosing a CX leader based on where he or she sits in the organizational hierarchy. Often, the strongest CX programs have a leader that reports directly to the CEO to ensure the cross-organizational collaboration required for success.
In addition, every CX leader needs to have the expertise, resources, and autonomy to guide the program.
2. A Focus on Change, Not Just Numbers
A recent Harvard Business Review article tackled the issue of lagging CX programs head on.
While most CX programs begin with a strategic focus, they often get bogged down in feedback gathering and analysis:
Time passes slowly, data continues to mount, and paralysis sets in. Big, strategic goals evolve into score improvements and incrementalism instead of gleaning useful insights that allow change with confidence. (Harvard Business Review)
And Bain agrees:
A company can get so engrossed in collecting and sifting through data on patterns of use, retention, purchases and other transactions that buyers become numbers rather than people, segments rather than individuals. Companies become deaf to the real voices of real customers. (Bain and Company)
Collecting and assessing feedback data is important to help drive changes—but it is not actual change. To overcome this challenge, companies can build in "think time" to help them understand the true meaning behind the metrics.
3. Collaboration Throughout the Organization
Many CX practitioners say that the customer experience isn't a charge of a specific department. It is the responsibility of the entire organization.
To make that a reality, CX professionals need to connect and collaborate throughout the organization. That is the only way to break down silos and help achieve the seamless and effortless experiences customers crave.
CX leaders should share program goals and analysis across the organization to advocate for change. To form alliances with executives, CX professionals should understand each department's mission—and how CX aligns with its goals. And CX pros should recognize that most executives truly do support CX, but may need specific guidance on actions they can take to support CX initiatives.
Companies Can Set the CX Bar Higher
Study after study suggests that CX is a top-of-mind issue for most company leaders. Yet, customer-focused research consistently shows that companies still have much work to do to close the gap between their CX aspirations and reality.
Most companies likely have the building blocks of a CX program in place—but may need to refocus it. They may need to reframe the expectations of their program to ensure it upholds a strategic purpose. They may need to clarify their mission to make it tangible and communicate it throughout the company.
The good news is that some companies have taken their CX programs very seriously—and deliver experiences that exceed customer expectations. Why is this a good thing? As CX thought leader Shep Hyken explained in a recent Forbes article:
What's happening is the best companies are setting the bar and creating a new, higher expectation. There is a new benchmark, and other companies, even with their efforts to improve, aren't able to keep up with customers' newfound expectations. (Forbes)
When customer-savvy companies cannot deliver the types of experiences their customers desire, they know they must do better. They can take a critical look at customer feedback and their delivery processes—and institute the changes required to evolve.
Instead of setting the bar too low when it comes to customer experience, companies should set it higher. They should continuously aim for excellence and innovation. With a well-defined mission, a continuous focus on evolution, and cooperation throughout the company, an organization can make its mark as a CX leader.
Save
Save
Save
Author:
Connie Harrington
Connie is a content strategist and serves as managing editor of the eTouchPoint blog. Possessing 15+ years of international experience across five continents, her focus areas include: customer experience management, customer contact management, communications planning, content marketing, email marketing, and employee engagement. Previously, she held marketing and communications leadership positions at CGI, Mindwrap, and TEOCO. She earned a B.A., cum laude, from the College of William and Mary in Virginia.