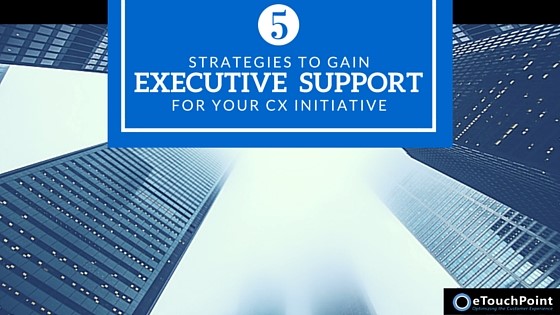 Successful customer experience (CX) programs require strong executive commitment. And industry research reveals that today's business leaders do cite the value of CX. This is good news for your CX initiative. In an in-depth study of more than 400 executives, Harvard Business Review researchers found that:
53% said CX provides competitive advantage
45% listed CX as a top strategic imperative
Another study found that nearly all surveyed executives identified CX as a mission-critical initiative: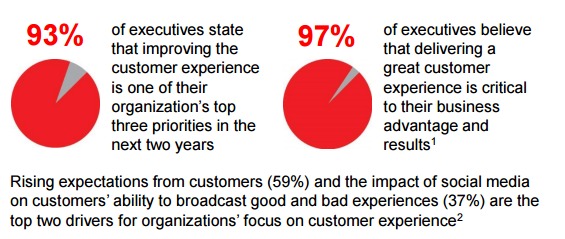 Source: O'Keefe and Company and Oracle
However, articulating support for the concept of CX is far different from supporting the practice of CX during day-to-day operations of a business. In fact, a 2015 executive survey from People Metrics found that 90% of respondents acknowledged that their company had identified CX as a strategic mandate—but only half had established a budget for CX programs.
The disconnect between CX talk and action is pervasive—and potentially damaging.
Without buy-in from key stakeholders and internal champions, companies may expend energy and resources on CX—but ultimately fail. When this happens, businesses can lose significant ground with customers and leave employees discouraged.
How can companies avoid this fate? Before embarking on or expanding your CX initiative, you should make sure they have solid backing from key, influential executives.
1. Understand the 5 Levels of Executive Engagement in CX
Having across-the-board executive support for CX is ideal, but may not be realistic. Executives have different mindsets and may focus on the needs of their functional area more than broad initiatives such as CX.
To help understand the varying perspectives of executives, CX practitioners can follow a model created by CX think tank, the Temkin Group. The Temkin model defines five levels of executive commitment to CX:
Opposers – do not believe in CX and typically refuse to support CX programs, even if they have access to ROI data
Passives – do not genuinely care about customer experience, but do not actively oppose CX programs
Toe-dippers – show willingness to expend some resources on customer experience
Supporters – share resources for CX programs and motivate peers to follow suit because they understand the value of CX
Advocates – recognize the long-term value of CX to the organization, so they champion CX and work to ensure programs receive adequate funding
After understanding where each leader stands on CX, CX professionals can seek to move executives to higher levels of support over time. Sharing CX results and ROI can change the mindset of some leaders. Executives may respond well to:
Intra-company Insights—such as comparing CX performance between different frontline groups
Horizontal Analysis – such as benchmarking a contact center's performance against competitive data
Competitive Benchmarking – using data from relationship, CX surveys, or 3rd party research
Another powerful tactic is using authentic CX feedback to help executives understand broad customer service themes. With this insight, executives can devise strategies to tackle pressing issues and make changes that reduce broad problems over time.
2. Seek CX Action Instead of Buy-In from Executives
Many of today's executives do buy into the concept of CX. In fact, Forrester analyst Megan Burns suggests executive support for CX is widespread, but that leaders need motivation to take action to drive your CX initiative forward.
Although leaders may support the idea of CX, they may not change their behavior or encourage changes within their teams. Instead of requesting buy-in, CX professionals should ask executives to take specific actions, such as:
Promoting your CX initiative in a team or company meeting
Sending out communications highlighting the program and its goal
Reviewing positive at negative customer feedback at an all-hands meeting
CX practitioners can also engage executives in establishing company-wide metrics and processes. For example, executives can promote adoption of an industry standard measure—such as customer effort score (CES)—and affirm a standard goal for the entire frontline organization. Moreover, executives can institute a standard process to ensure consistent treatment strategies in critical scenarios, such as when an unhappy customer leaves low survey scores.
Promoting understanding among executives is also important. CX practitioners should take the time to explain the nuances of your CX initiative and relevant practices to supportive executives to clarify the role each team plays in the CX ecosystem.
While large meetings can spark ideas for your CX initiative, CX practitioners must work to get to know each executive one-on-one. They need to involve executives in every stage of the CX program—from initial build out to survey design to formation of corporate closed loop alerting (CLA) processes for dissatisfied customer management. This allows executives to internalize messages about CX and understand how CX aligns with their team's mission.
3. Show Executives Quantifiable Results from Your CX Initiative
Some executives inherently embrace the importance of fostering customer happiness. Others need data to sway their opinions and win their support for CX.
Many companies—both CX leaders and laggards—find it difficult to tie the impact of your CX initiative to business performance: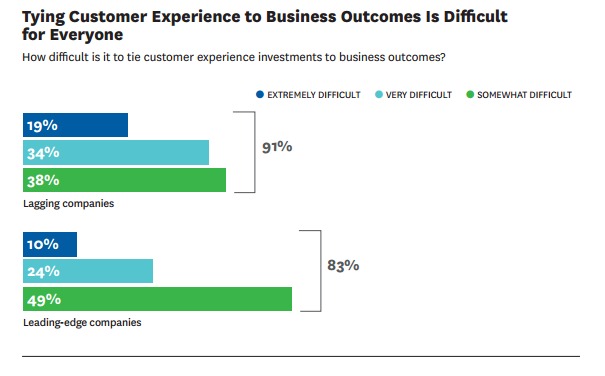 Source: Harvard Business Review
One way to demonstrate how CX affects the business is by using third-party results from industry or competitive studies. For example, CX professionals can show executives how improving CES or reducing brand detractors has a proven impact on customer loyalty. They can also provide evidence of how having closed-loop processes to manage dissatisfied customers can decrease negative survey alerts and create a larger pool of happier customers.
In addition, CX practitioners need to make measurement and reporting a core part of their company's CX program. They should collaborate with executives to select organization-wide metrics, set goals, and track progress continuously. Over time, companies can discern how their CX processes affect customer perceptions and behaviors.
By tracking internal metrics and keep an eye on the marketplace, CX experts can compare corporate performance with industry trends. This provides important context for executives who rely on quantifiable results to make business decisions.
4. Foster a Personal Connection Between Executives and Customers
Executives face many daily pressures and often need to make quick decisions. For some leaders, the intensity of their roles and the accountability to deliver financial results can cause them to start viewing customers as numbers instead of as people. They may need reminders of the human element of the business—and to see how the work the company does touches people's lives.
CX innovators have devised novel ways to help executives gain insight into the personal experiences of customers:
Collect open-ended feedback from customers after every interaction—and give executives access to this insight, along with trends and metrics.
Include a review of genuine verbatim customer comments—both positive and negative—at leadership meetings.
Provide executives opportunities to "listen in" on customer dialogs with frontline employees—e.g., by having them spend time in contact centers listening to customer calls.
Set up opportunities for executives to reach out to customers and have open-ended dialogues.
Ask executives to live the customer journey by stepping into the shoes of customers and going through a typical purchase experience.
Any of these activities can be an eye-opening experience for executives and win their backing for your CX initiative.
 5. Know the Signs of Executive Engagement in CX
Organizations with strong executive engagement in CX display similar characteristics. These include: regular reviews of CX results, along with strategic objectives and individual performance incentives tied to CX. The Temkin Group has defined eight signs of executive engagement in CX: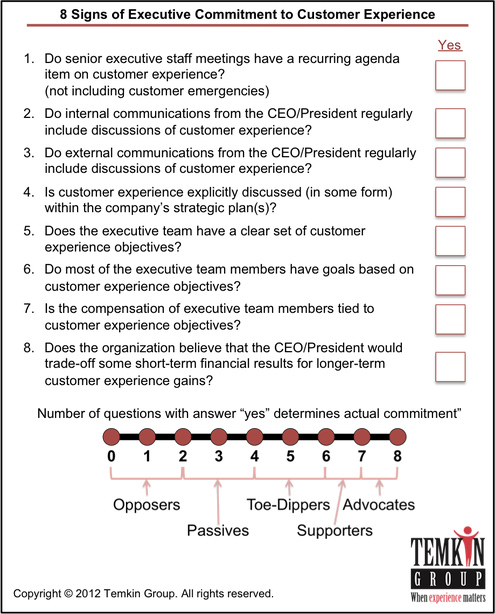 A hallmark of organizations with unwavering executive commitment to CX is a willingness to forgo short-term financial success for long-term CX gains. When executives can make these choices, they recognize that CX is not a one-time project, but an integral part of doing business that yields strategic competitive advantage—even if the results are not immediately apparent.
Win Leadership Support for CX
Some executives naturally embrace CX—while others need more persuasion. A key element of every CX leader's job is continually growing internal executive support for CX.
Ultimately, CX professionals need to bring the same people-savvy skills they use to understand customers to understand executives. They need to recognize the different personalities and priorities of executives—and communicate how CX aligns with each executive's team goals.
This can be difficult work—but it is crucial for CX success.
Employees look to executives for visionary and inspiring leadership. If executives' words and actions show that they deeply value customer happiness—employees will model these behaviors as well.
And that devotion to customers will become evident in how frontline employees interact with customers.
Author:
Connie Harrington
Connie is a content strategist and serves as managing editor of the eTouchPoint blog. Possessing 15+ years of international experience across five continents, her focus areas include: customer experience management, customer contact management, communications planning, content marketing, email marketing, and employee engagement. Previously, she held marketing and communications leadership positions at CGI, Mindwrap, and TEOCO. She earned a B.A., cum laude, from the College of William and Mary in Virginia.