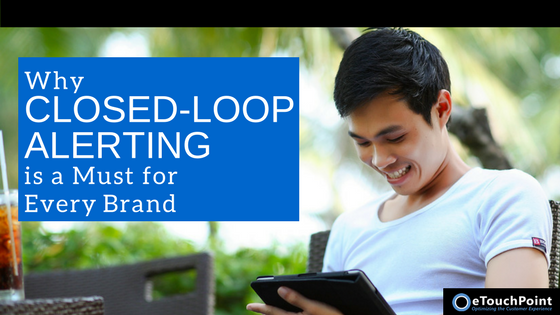 Many organizations want loyal customers–and may have invested in rewards programs or other strategies. These approaches are solid first steps, but companies must do more. They should adopt closed-loop alerting (CLA) programs to reach out to and retain customers who have had less-than-satisfactory experiences.
Why is proactive management of unhappy customers important? Research from ThinkJar reveals that 67% of customers who churn cite poor experiences as a top factor in their defections. And ThinkJar notes that 91% of dissatisfied customers just leave without raising concerns to the company.
Every customer complaint or low survey response is an opportunity. When a company puts closed-loop alerting software and practices in place to identify unhappy customers proactively, they can restore relationships with at risk customers. These companies have processes that empower frontline managers to reach out directly to customers who leave poor survey responses–to understand concerns and remedy them, as appropriate.
As an added benefit, organizations can learn whether the concerns that customers have are one-off issues–or systemic problems that need focused attention. Customer-savvy companies ensure that they close-the-loop internally as well–so that those employees responsible for subpar interactions can learn and grow.
Evolving Technology, Evolving Practices
Closed-loop alerting technology helps companies take their customer experience (CX) practices to the next level. By adopting CLA, companies can act on the customer feedback they collect and further their efforts to build customer loyalty.
Those companies that already use CLA can benefit from technology advances–including workflow modules that track resolution efforts across customer-facing teams and multi-channel contact to keep customers informed on the status of their issues.
Wherever your company is in its CX journey, you can benefit from advancing your CLA practices. Learn more about the importance of CLA and the future of this vital CX program component in our white paper "Why Closed-Loop Alerting is a Must for Every Brand."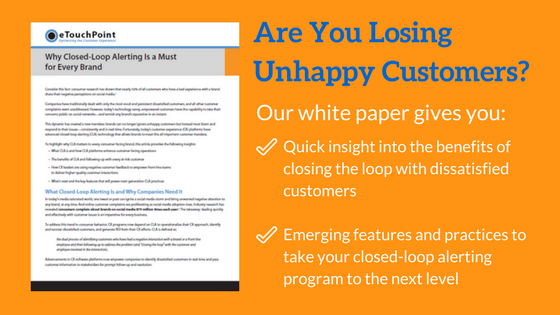 Author:
Connie Harrington
Connie is a content strategist and serves as managing editor of the eTouchPoint blog. Possessing 15+ years of international experience across five continents, her focus areas include: customer experience management, customer contact management, communications planning, content marketing, email marketing, and employee engagement. Previously, she held marketing and communications leadership positions at CGI, Mindwrap, and TEOCO. She earned a B.A., cum laude, from the College of William and Mary in Virginia.