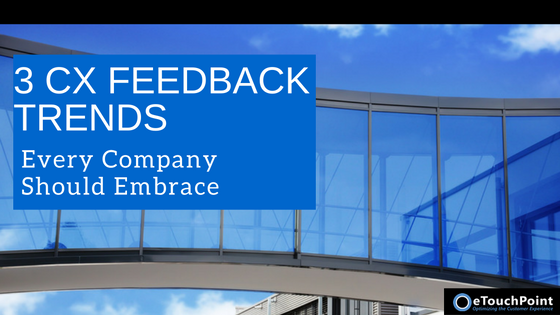 Customers' expectations about how brands interact with them are evolving. CX-savvy brands are applying innovations to capitalize on this trend and accelerate their CX feedback gathering activities by:
Using each of the three primary contact channels—IVR, web/email, and SMS—to gather feedback
Adopting "hybrid" approaches that gather feedback from a combination of IVR, web and SMS channels
Embracing the rise of the SMS
To gather the most meaningful customer insight, companies need to know and embrace each of these 3 key CX feedback gathering trends.
Using IVR, Web, and SMS
In the early stages of CX program development, companies may find it tempting to choose a single customer feedback collection method. This seems logical since using one channel simplifies administration and reduces initial investment. But organizations gain an edge by using multiple channels to collect feedback.
During the move to a multi-channel feedback collection approach, companies should ask customers what their preferred communication channel is, and connect with them in accordance with that preference. This allows companies to contact customers in a way that meets their needs and feels less intrusive, which in turn will increase the likelihood that they will respond.
Companies also need to understand the advantages of each contact method:
IVR relies on a conversational approach to collecting feedback that appeals to older demographics. It achieves higher response rates than web and email collection methods, and works well in parallel with SMS.
Web/email feedback collection allows companies to reach large numbers of customers at a reasonable cost. This channel lags in response rate to calls to action, however.
SMS is the most challenging collection method to administer, but it yields high response rates, particularly among younger demographics.
When designing a feedback collection strategy, companies often find it helpful to gather feedback from customers through a channel that aligns with the interaction that took place.
For instance, a web survey is a good choice after a web chat support session. IVR is a better option after a call to a contact center. Mirroring the way customers connect shows that the company is in tune with its customers' contact preferences.
Adopting Hybrid Models for Feedback Gathering
To reach the most customers, companies can employ a hybrid strategy. This allows them to use more than one channel to encourage customers to respond to a feedback invitation.
How does a hybrid contact model work? Consider this scenario: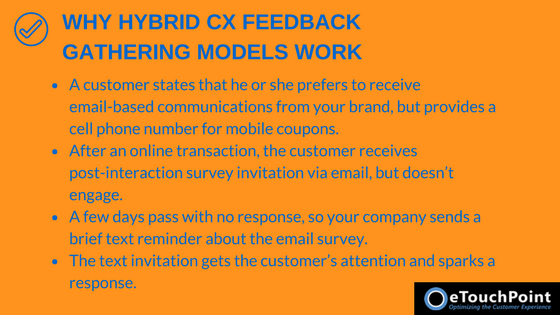 Sophisticated feedback gathering platforms empower organizations to create hybrid contact models that address common scenarios, such as this one. With hybrid contact strategies, companies can reach more customers and achieve higher response rates.
Embracing the Rise of SMS
 In 2014, the number of global mobile users surged past the number of desktop users for the first time.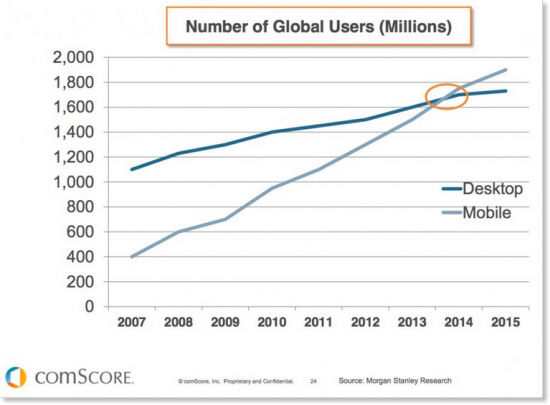 For today's companies, this means embracing SMS is key to gathering more customer insight. And other statistics underscore this importance of SMS in CX feedback collection:
Cell phone adoption approached 100% among U.S. adults between 18 and 49 (Pew Research)
SMS is U.S. adults preferred means of communicating (Gallup)
31% of customers will respond—usually quickly—to an SMS survey request (Smart Insights)
To maximize results, companies need to know how to optimize their surveys for SMS feedback gathering. They need to choose whether to employ a link-to-web approach or a back-and-forth survey model. And they need to follow key SMS best practices, such as:
Always asking for permission before sending texts to customers
Recognizing the innate, open-ended nature of SMS—and being prepared to follow-up
Making it easy to opt-out of text-based communications
By following these practices and designing a survey that works in SMS, companies can make the most of this important contact channel.
CX-Savvy Brands Need Dynamic Feedback Collection
Collecting high-quality customer feedback that drives action is a persistent goal of every CX program. As today's companies strive to differentiate themselves based on the experiences they deliver, they need authentic customer feedback in near real-time.
Gone are the days when an adequate score on annual customer surveys was enough for companies to feel positive about their abilities to meet customers' needs. Today's leaders must be nimble and dynamic. They need to solicit and collect CX insight across multiple channels and employ hybrid approaches to boost response rates. As SMS adoption grows, brands need to embrace this high-potential feedback gathering method.
Companies that make strategic use of emerging CX feedback technologies have an unprecedented opportunity to distinguish themselves in today's customer-driven landscape.
Save
Save
Save
Save
Save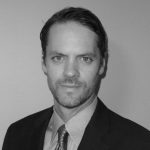 Author:
Chip James
Chip James is President of eTouchPoint, a pioneering customer experience (CX) technology provider that has provided solutions to Fortune 500 leaders for 15+ years. A CX industry veteran, Chip has been a leading CX advocate through speaking engagements and development of industry best practices. Prior to his work at eTouchPoint, Chip held leadership roles at Commercetel, Qualistics, and CGI. He completed his undergraduate degree at the University of Virginia and holds an MBA from Georgia State University.