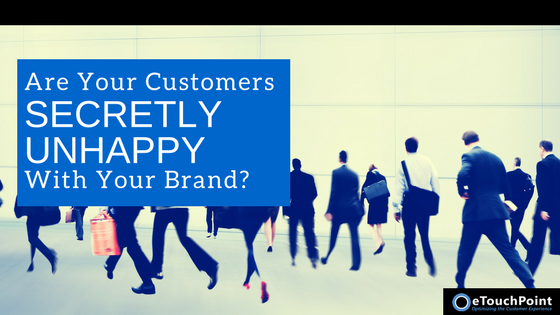 Customer service teams handle complaints every day. Even so, consumer studies indicate that most unhappy customers don't take their concerns to companies that disappoint them. A popular metric in the customer experience (CX) community suggests that for every one complaint companies receive, 25 go unvoiced by customers.
Does this mean your company shouldn't worry about those unspoken complaints? No. Unhappy customers that don't complain often defect and may spread negative sentiment–both in person and online.
The costs of latent customer dissatisfaction are substantial. According to a 2016 study by New Voice Media, U.S. businesses lost $62 billion in a single year due to customer defections and abandoned purchases after customers received poor service.
While that number is staggering, there is more to the story. The losses caused by poor experiences have risen by over $20 billion–a 50% increase–in just two years.
The dominance of social media has created new opportunities for customers to complain–and new complications for companies that want to safeguard their reputations.
Unfortunately, research has shown that companies routinely ignore most social complaints–although those that complain online tend to spend more than their less vocal peers. The reason, according to study authors Bain & Company, is that engaged customers spend more than disengaged customers–and complainers are engaged, even if they have concerns.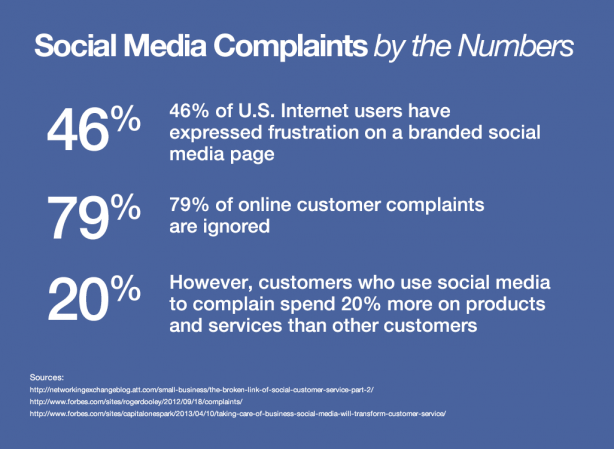 Image Source: Placester
What can your company do to address these challenging trends? Here are three strategies to prevent an undercurrent of hidden negative sentiment from harming your brand.
Strategy #1: Maximize Transparency
Every organization has its trouble spots–and humans make mistakes.
Although having customer complaints is inevitable, companies should take steps to minimize them. One way is by making their policies and pricing as clear as possible so that customers don't feel surprised or frustrated when they engage with their brands.
As the Harvard Business Review (HBR) reported in a recent article, a lack of transparency can cause significant customer dissatisfaction. On occasion, a company may even choose to institute complex policies that lure customers into making poor purchase decisions–or cause customers to pay unexpected fees.
Although these companies may see short-term financial gains, they put themselves at high risk of losing customers. HBR warns:
Dissatisfaction and churn should be particularly worrisome to firms that see their customers defecting to a competitor that provides a transparent and friendly alternative.
If a company finds its most profitable customers are the ones that are most likely to be dissatisfied, they should take heed. Those customers may not complain to the company, but they are apt to share their displeasure with others–either in person or via social media.
Strategy #2: Implement Customer Experience Surveys and Act on Low Scores
CX leaders know they must seek feedback from customers–and rely on customer feedback to discern where their frontline processes and practices may fall short.
Sending post-interaction surveys to customers after each transaction is an accepted best practice. Today, companies have gravitated to short surveys that gather insight on customers' likelihood to recommend the brand to others–or the amount of effort expended to complete the transaction.These and other metrics provide a helpful snapshot of customers' most recent experiences.
True service leaders go beyond simple feedback gathering to institute processes that understand and remedy customer concerns. Called "closed loop alerting," or CLA for short, CLA practices empower frontline leaders to "close the loop" with unhappy customers and employees behind any troublesome interactions. The most advanced CLA processes feature real-time alerts that prompt manager action soon after a customer leaves low survey responses.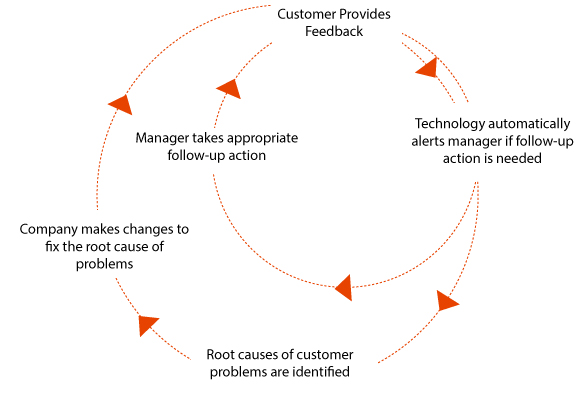 Image Sources: Business2Community
With a consistent focus on CLA over time, companies almost always see drops in customer complaints and alerts. They are able to distinguish between one-off problems and systemic issues that may require adjustments to frontline processes.
Strategy #3: Collect Verbatims to Identify Themes that Traditional Feedback Gathering Misses
For companies striving for CX excellence, post-interaction surveys are only the first step in their feedback gathering efforts. Those organizations also collect open-ended feedback from customers–and have practices to distill meaning from customer comments.
Why is this so important? Academic research has revealed that some latently dissatisfied customers may leave adequate scores on a quantitative survey.This suggests that closed-ended survey formats–which ask customers to fit their perspectives into a prescribed scale–may not provide clear insight into customers' true feelings about a brand.
Today, more companies are recognizing the importance of gathering voice of the customer (VoC) feedback. And there is a clear opportunity for brands that want to forge ahead in VoC. According to the most recent State of Voice of the Customer Report from the Temkin Group, just 16% of companies have reached the highest two stages of VoC maturity.
The small segment of companies that have advanced VoC programs are doing more than collecting feedback–they are actively using it to transform their businesses.
Achieving such success requires accurate analysis of customers' written and spoken word–by human sentiment analysis. Only humans can detect currents of negative sentiment even when customers speak positive words. Factors such as voice volume, tone, and word choice can unmask potential detractors who may not look like one based on the survey scores they leave.
As Forrester explains, VoC is a continuous process that involves listening to and interpreting customers' qualitative feedback to drive action: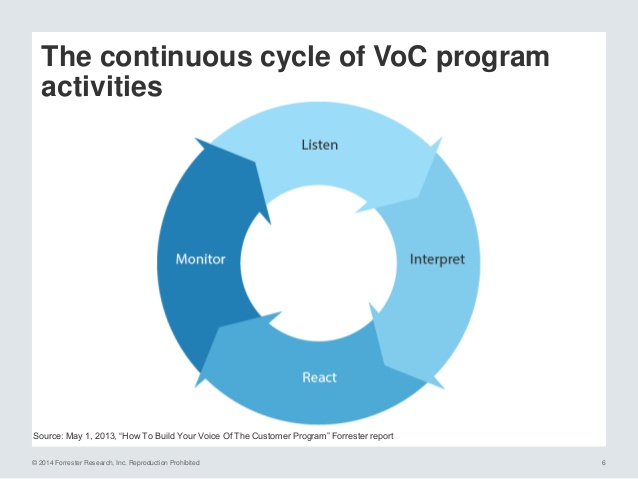 Image Source: Forester (via SlideShare)
Meeting Customers Desire for Better-Quality Experiences
With the right strategies, companies can perfect the art of identifying and taking action on negative feedback–even hidden poor sentiment–and apply this insight to advance their CX programs. And this can lead to creating customer-facing approaches that create a positive impression in the marketplace.
There is good news for those that take these important steps. Customers want to engage with brands that deliver positive experiences–and are willing to pay more to those that do: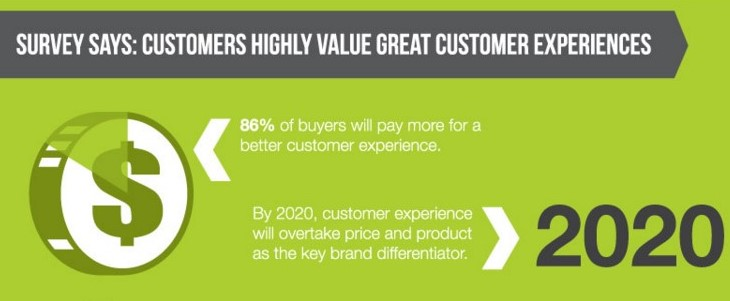 Image Source: Super Office
What does all this mean for your company?
First, you must acknowledge that latent dissatisfaction exists–and implement the right tools and processes to help unearth pockets of hidden negative sentiment. You must also embrace the truth that customer feedback–even when it is negative–is an important asset in shaping your evolving CX strategy.
Today's customers have unprecedented access to information–which gives them the ability to shift loyalties quickly and influence their personal networks. You need strategies to find unhappy customers who harbor negative sentiment–and must take action to stop the spread of unwanted negative sentiment about your company.
Author:
Connie Harrington
Connie is a content strategist and serves as managing editor of the eTouchPoint blog. Possessing 15+ years of international experience across five continents, her focus areas include: customer experience management, customer contact management, communications planning, content marketing, email marketing, and employee engagement. Previously, she held marketing and communications leadership positions at CGI, Mindwrap, and TEOCO. She earned a B.A., cum laude, from the College of William and Mary in Virginia.