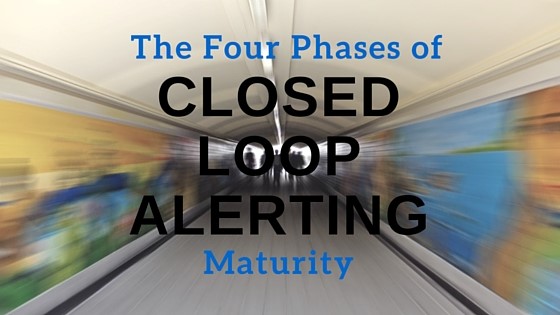 In our last post, we outlined industry forces compelling companies to adopt a closed loop alerting process to manage dissatisfied customers. We also provided an overview of our four-phase CLA maturity model. This post provides more insight on each phase—so that companies can see where they are and where they need to be to advance their CLA maturity practices.
Closed Loop Alerting Maturity Phase I: Initiate

In the early phases of CLA adoption, companies are just setting out on their CX journeys. These firms have implemented a CX feedback collection mechanism and begun to solicit post-interaction feedback. While they may analyze customer responses, they are not being proactive in using the results.
At this stage, a firm has not yet implemented effective CLA practices. They may follow-up with a small percentage of dissatisfied customers—but likely do not take action on most negative survey responses. Instead, they rely on the outmoded practice of responding to only the most vocal complainers.
This reactive approach bears a lot of risk. In the past, unhappy customers may have spread negative sentiment by word-of-mouth—potentially harmful but contained. Today, every customer has a voice on social media, which multiplies their ability to do damage when they feel wronged by a brand.
However, taking steps to improve CLA practices can win back customers on the brink of mutiny.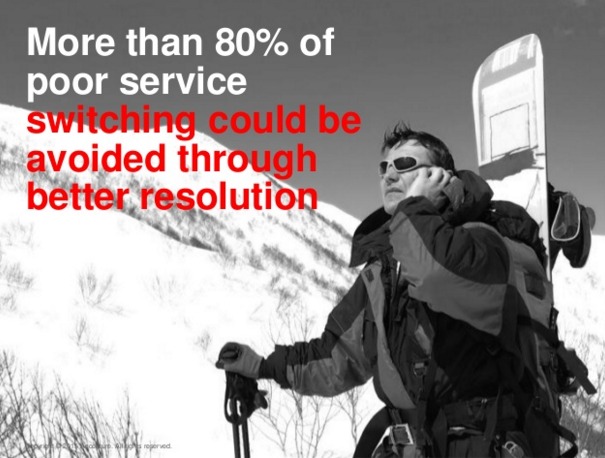 Source: Accenture, 2013
According to Accenture research, 81% of customers who defected after a poor customer service experience said the company could have done something to resolve their concerns.
What does this mean? Companies at the lowest level of CLA maturity need to heighten focus on their dissatisfied customers.
Closed Loop Alerting Maturity Phase II: Act

In phase II, companies begin to embrace the transformative potential of CLA. These companies have implemented triggered alerts that send notifications after customers leave negative survey responses. And they take action on many relevant alerts.
However, these companies CLA practices are inconsistent. Alerts may go to a centralized customer service team – or to several, distributed teams – for follow-up. Having customer-facing professionals follow up with unhappy customers is not a bad concept, since these teams may have gained specialized expertise in complaint management.
Also at this phase, companies rely only on quantitative feedback to trigger alerts. This means that customers must leave a low score on a closed-ended question to receive any follow-up.
Closed Loop Alerting Maturity Phase III: Empower

As companies CLA processes mature, they begin to see the drawbacks of the centralized approach to managing customer dissatisfaction. They shift responsibility for issue resolution to the front-line team responsible for the interaction and require these customer-facing teams to follow-up with most at-risk customers.
In these organizations, having front-line employees manage complaint resolution has emerged as a best practice. Alerts go to managers, who reach out to customers to understand and remediate issues. Managers also gain insight on what went wrong and can use this learning to coach the employee who delivered the subpar experience.
This approach empowers front-line managers to take responsibility for customer experiences. And it gives them a direct connection to customers that they can use to propel their teams to higher levels of performance.
Some companies have taken this practice a step further and gotten their leadership involved. To drive change, these organizations hold regular meetings with employees who have generated complaints. By putting employees on the spot and asking them to explain their choices, leaders can motivate behavior changes—for the employee whose performance is in question and across the entire front-line team.
At this level of CLA maturity, companies can see significant drops in customer dissatisfaction and fewer alerts—which is good news for the business. Still, they depend on quantitative survey responses for insight—and lack ability to tap into high-value voice of the customer (VoC) feedback.
Closed Loop Alerting Maturity Phase IV: Innovate

In the highest phase of CLA maturity, organizations have systemized their CLA practices. They have established clear, time-based goals to resolve negative alerts, with CLA innovators aiming to reach out to every unhappy customer within 24 hours and close out all alerts within four days. In addition, these businesses consistently measure performance against goals.
Also, today's CX leaders use emerging CX technologies to analyze both feedback to identify unhappy customers. Next-generation CLA technologies can scan customer verbatims and uncover words or phrases that signal potential customer unhappiness—and trigger alerts to a manager or other stakeholders.
Such technologies can also identify customer sentiment—positive, negative, or neutral—across multiple categories, including service or product line, appointments, or communications. Companies may choose to follow-up on all categories, or focus only on categories that they can control.
Another advantage of this technology is that companies have the power to identify latent negative sentiment. Since customers may leave adequate scores on closed-ended questions and offer their true feelings in spoken-word responses, companies will be able to manage a larger pool of dissatisfied or marginally dissatisfied customers.
This marriage of CLA and VoC comes at a time when companies are struggling to understand how to take action on VoC data. As part of its annual benchmark on the state of VoC, the Temkin Group found that less than one-third of its survey respondents were making business changes because of VoC insights.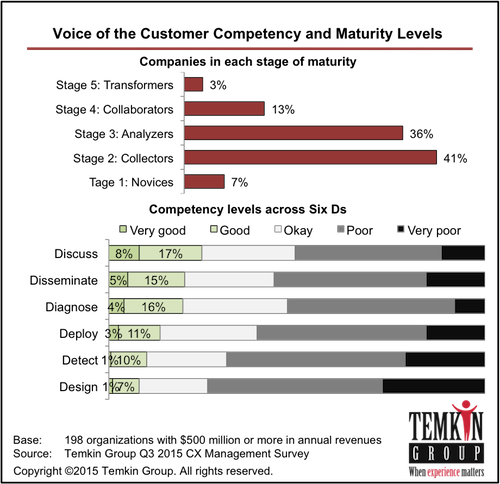 Source: Temkin Group, 2015
Most respondents are collecting VoC feedback and/or performing some analysis. Very few—just 16 percent–have progressed to the highest two levels of VoC competency.
Implementing sophisticated CLA technologies can help bridge this gap. Companies will be able to gain prompt understanding of issues that are causing customer dissatisfaction—and understand whether these concerns are one-off incidents or part of a systemic trend. This can help leaders understand whether to target coaching to individual employees or teams or make innovative changes to the CX initiatives.
More CLA Technology Advances on the Horizon
As business' CX needs escalate, CLA is keeping pace. Next-generation CLA technologies will empower companies to act even more rapidly after receiving alerts.
How? There are two key CLA advances on the horizon:
Multi-modal alerts: Today, most alerts go to email inboxes—which may already overflow with pressing business concerns. In the near future, companies will have the option to add SMS and IVR to the mix. That means front-line managers will receive alerts on their phones—wherever they are. And since SMS has a proven open rate of 99%, texts are likely to become a dominant form of alert communication.
Multiple stakeholder engagement: Companies can currently select one alert recipient—a front-line manager who holds end-to-end responsibility for the alert. But what if that manager cannot address the customers concern? More sophisticated approaches will allow distribution of alerts to multiple stakeholders in different departments. Managers will also be able to forward alerts, while maintaining ability to track alerts to close-out. The result: more stakeholders can work together to address customer concerns—with details on resolution attempts housed in a central platform.
These forthcoming innovations bode well for the future of CLA. And the timing is perfect too, since more brands are recognizing the need for better customer dissatisfaction management.
Embracing Mature CLA Practices
As companies progress through the phases of CLA maturity, they gain distinct, tangible benefits. Over time, they can see decreases in the numbers of alerts and higher customer satisfaction scores.
But moving forward takes hard work, a commitment to CX excellence, and strong CX expertise. Leaders need to champion the importance of CX and recognize that delivering quality experiences goes beyond focusing on loyalty and retention. Instead, brands must tackle the issue of customer dissatisfaction head on.
This is a challenging task, but swift action makes it easier. Imagine the delight of a customer receiving a prompt follow-up call that allows them to articulate their concerns and receive empathy and a path towards resolution. Instead of complaining, that customer is more likely to spread positive sentiment and make a good impression on others.
Author:
Connie Harrington
Connie is a content strategist and serves as managing editor of the eTouchPoint blog. Possessing 15+ years of international experience across five continents, her focus areas include: customer experience management, customer contact management, communications planning, content marketing, email marketing, and employee engagement. Previously, she held marketing and communications leadership positions at CGI, Mindwrap, and TEOCO. She earned a B.A., cum laude, from the College of William and Mary in Virginia.