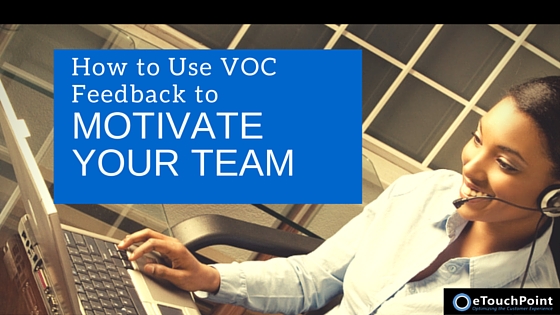 The words "feedback" and "motivation" can seem like antithetical concepts. The reason? "Feedback" often has a negative connotation due to its use as a "stick" versus a "carrot" to improve performance.
However, customer experience (CX) leaders realize that feedback–both good and bad–is critical to fostering continuous improvement and employee engagement. These companies recognize that employee engagement is crucial to delivering strong, consistent, high-quality CX –and that doing so has a positive impact on the bottom line.
One of the underutilized areas of many CX programs is the wealth of information contained in the open-ended comments provided by customers during surveys.  It's easy to communicate quantitative metrics, such as the percentage of very satisfied customers. Many companies have embraced scorecards to show employee / company performance over time.
In recent years, using Voice of the Customer (VOC) feedback to motivate employees has gained wider acceptance. As a Harvard Business Review article explains:
"A growing body of research shows that end users—customers, clients, patients, and others who benefit from a company's products and services—are surprisingly effective in motivating people to work harder, smarter, and more productively."
How can CX-savvy organizations use VOC feedback to motivate their teams? Here are 3 proven practices.
1. Show Appreciation by Publicly Acknowledging A Job Well Done
Recent research affirms that praise motivates performance. In fact, a recent Harvard Business School study found that praise can motivate employees to accomplish tasks with greater success and creativity.
CX Innovators recognize that VOC feedback provides opportunities to integrate positive feedback into daily routines.  Many leaders and managers visibly praise employees in front of their teams to recognize patterns of strong performance and commend top performers.
The benefits of praising a job well done are clear. In a 2013 study by Glassdoor, showing employees that you appreciate them and the work that they do was found to be the biggest motivator of employees to work harder. In that survey, 81% of employees reported that they are motivated to work harder when their boss shows appreciation for their work.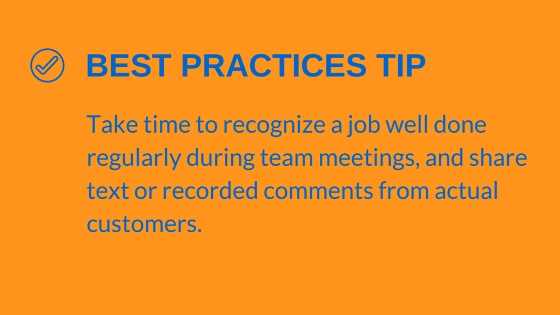 2. Foster Community by Recognizing Individual Contributions
According to Harvard Business School professor Rosabeth Moss Kanter, another way to motivate employees is to "create community by honoring individuality."  She recommends that organizations cultivate a feeling of membership and belonging by encouraging employees to create meaningful relationships.
One way to do this is to promote ways for team members to get to know one another more deeply.  Another way is for managers to recognize the contributions of individuals.
VOC feedback offers opportunities to create meaning at work, deepen bonds between employees, and keep the team focused on shared goals. When employees hear customers comment about the impact of their actions, the feedback becomes much more personal than if a manager were to compliment the employee without supporting feedback from customers.
3. Create Meaning by Reinforcing The Impact on the Greater Whole
Motivation and employee engagement go hand in hand and many would suggest that you cannot have one without the other.  As we mentioned in an earlier post, CX guru Shep Hyken describes a motivated employee as:
"…the person who goes out of his or her way or does something that is less than convenient without having to be asked." 
Employees that understand how their job positively (or negatively) impacts the greater whole are motivated to go the extra mile–or change their performance.
As much as we crave positive feedback, everyone misses the mark sometimes and there will be instances where teams and individuals can learn from customers who had a less than positive experience.  When employees understand and experience the impact their work has on customers, it inspires and motivates them.
VOC feedback is much more impactful than feedback that is filtered by managers because employees see customer feedback as more credible and meaningful.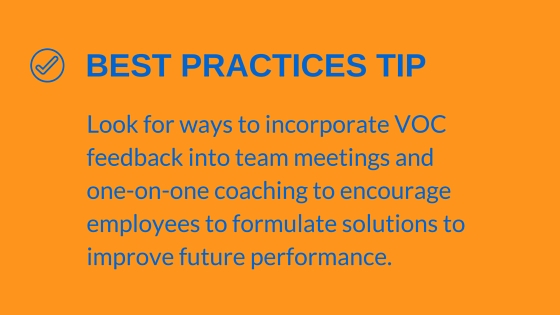 Motivate Your Team With VOC Feedback
Established and emerging CX programs can use advanced CX solutions to manage the plethora of customer comments CX programs generate. With these solutions, you can focus on the prevalent themes–both positive and negative–voiced by customers.
In addition, organizations can establish alerts that notify managers when customers leave negative comments—or praise that is worthy of recognition.  Managers can highlight authentic customer comments in internal communications to keep employees focused on customer needs.
To reward star performers, managers can also use positive customer feedback as part of a formal recognition process. With the right technology and processes in place, managers can integrate VOC feedback to deepen employee motivation and engagement with ease.
Author:
David Farschon
David Farschon is Senior Manager – Customer Experience at eTouchPoint where he works with Fortune 2000 clients on the development of Customer Experience (CX) programs and the implementation of eTouchPoint's CX software solutions. In this role, he leads the definition and implementation of client CX and feedback gathering programs and works closely with client stakeholders to identify opportunities for improvement and operational change based on customer perceptions. He is a subject matter expert in transactional survey design, IVR, SMS, and email feedback gathering, and CX analytics.