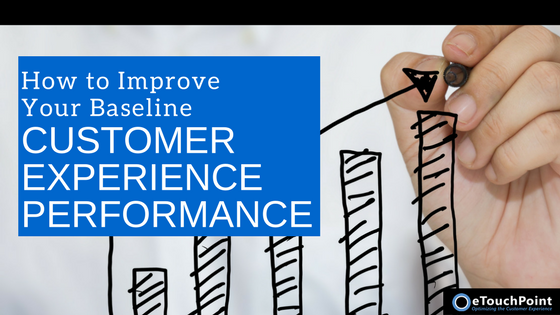 All companies want to improve their customer service and customer experience, but not all recognize the steps required to create lasting change.
When embarking on or revitalizing a customer experience (CX) program, companies need to identify their baseline performance in key CX metrics.  For example, many call center organizations may need to understand their first call resolution rate (FCR) to gauge how many customer concerns they resolve with one contact—and then use that metric as a baseline score for measuring improvement over time.  
Other important metrics to baseline may include customer alerts, specifically the percentage of interactions that result in unhappy customers, the percentage of those alerts that are "touched" (i.e. followed-up directly with customer) within 48 hours, and the percentage of customer alerts resolved within 5 days.
By establishing baseline service levels through customer feedback results, companies can monitor results over time to understand where their CX processes are succeeding and where there is room for improvement.  With this insight, brands can continually improve the effectiveness of their CX programs.  
Why the Right Tools Are Essential
Companies should seek technology and best practices that help them understand their baseline service levels and how the company is performing across the various service, process, and technological components in their service chain.
For this process to be effective, it is critical to measure customers' experiences routinely and across every touchpoint with the brand.  The most effective software platforms for measuring customer perceptions offer a variety of features including: feedback gathering, reporting, real-time alert management, and analyzing customer verbatims.
The insights provided by these platforms enable companies to monitor trends, hold employees accountable for their performance, and ultimately provide insight into the baseline service level across the company's service organizations.
How a Fortune 100 Leader Improved a Critical Service Level
Identifying a baseline service level and targeting improvements can yield powerful results.
One eTouchPoint client, a Fortune 100 leader, used this approach to monitor how well frontline employees were training customers during field visits.  In this instance, the company had guided frontline employees to provide specific information to customers as the home visit was ending.  That information ensured that the customer understood their new service and how to use its features.  Ultimately, the goal in providing that information was to prevent customers from calling the company's call centers requesting information about how to use the service.
When eTouchPoint initially assessed the frontline organization's compliance with this process, we found that only 20% of employees were actually taking the time to share the information with customers.
What did this analysis reveal?  Though employees had been trained to educate customers, most weren't doing it.  Instead of receiving critical information at the close of their initial transaction, customers would later call the contact center to receive support.  This led to many preventable and costly support calls.
As soon as eTouchPoint identified this issue, we worked with stakeholders in the company to understand why this was happening and what could be done to improve employee compliance.  We learned that employees felt rushed to get to their next job and didn't feel they could allocate the time needed to train customers.
Using the feedback and metrics provided by the eTouchPoint CX platform, client stakeholders facilitated an initiative within company to remedy this problem.  The solution involved communication and increased accountability among managers and frontline field employees.  Performance was discussed in team and stakeholder meetings.  Frontline employees were further educated on:
The costs incurred by the company when this proves process was not followed.

How spending a few extra minutes with customers lowers support costs and improves customer satisfaction.
Ultimately, the communication and training initiative was a success.  Within 6 months, the number of frontline employees who delivered service training to customers increased over 350%, from 20% to 75%.
Always Start with a Baseline
When seeking to evolve a CX program, companies need to understand their baseline CX performance levels.  These levels will vary across industries, companies, and lines of business. But one thing is consistent: understanding baseline performance levels helps companies identify trouble spots in their CX programs and target improvements.
Author:
Chip James
Chip James is President of eTouchPoint, a pioneering customer experience (CX) technology provider that has provided solutions to Fortune 500 leaders for 15+ years. A CX industry veteran, Chip has been a leading CX advocate through speaking engagements and development of industry best practices. Prior to his work at eTouchPoint, Chip held leadership roles at Commercetel, Qualistics, and CGI. He completed his undergraduate degree at the University of Virginia and holds an MBA from Georgia State University.