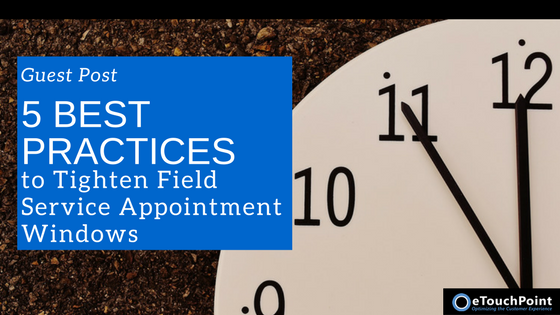 Guest post from Mark Wilburn, CTO of SkyCreek Corporation.
In a recent study, Accenture labeled the current consumer environment the "Switching Economy." The reasons: customers often see little differentiation between brands, can easily gain information on competitors, and are quick to shift their loyalties if expectations remain unmet.
Companies with large field service teams must take heed of this important trend. Field service is a highly visible operational component and a traditional source of much consumer frustration.
When representatives show up late for in-home appointments, the risk of customer defection rises. In addition, today's customers who decide to switch due to perceived poor service, such as a late appointment arrival, can spread the word on social media—resulting in an avalanche of negative sentiment about your brand.
However, today's field service operations have an unprecedented opportunity to achieve tighter appointment windows—and research affirms that they should. One study indicated that approximately 70% percent of respondents said they would recommend a company if a representative arrives on time. However, that number drops to less than 50% if arrival time slips a mere 15 minutes.
To meet customers' expectations in today's "Switching Economy," service providers must deploy effective customer contact and offer accurate appointment times. By following five proven best practices, you can tighten appointment windows—a true win-win for your business and your customers:
1. Integrate Customer Contact and Your Workforce Management Solutions
Every time your technician arrives at a site to find the customer is not home or does not need service, your costs go up. Moreover, wait times for subsequent customers rise. To avoid this problem, you need real-time integration between your customer contact and workforce management (WFM) solutions. This allows you to dispatch reps only to confirmed customers. You can also make last-minute confirmation attempts to determine if a customer is home or if your tech should skip that service call.
2. Institute Day-of-Job Customer Contact
Many industries still rely on 48 or 24-hour appointment reminders. However, customers' service needs and plans can change after a confirmation call—and cause you a wasted trip. Same-day contact is an advanced option. You can contact everyone on the day's schedule or just reach out to unconfirmed customers to establish a precise daily dispatch schedule.
3. Use Appointment Jeopardy Rules to Minimize Waste
Field service providers need "jeopardy rules" to manage unconfirmed appoints. Simply put, jeopardy rules apply when a customer is at risk of missing an appointment or a truck is at risk of making a wasted trip. If pre-appointment and day of job routines prove unsuccessful, you can make a "jeopardy contact" at a specified time window before an unconfirmed appointment. The jeopardy message can state that the appointment will cancel automatically if the customer does not make contact by a certain time.
4. Accommodate Customer Channel Preferences
Every customer has distinct preferences about how and when he or she prefers to receive contact. Adhering to these contact preferences makes it more likely that you will connect with your customers and boosts customer perceptions about the quality of service you provide. In addition, having multi-channel contact options gives you greater ability to connect with unconfirmed customers. For example, if you reach out twice by the customer's preferred IVR channel, you can send a final reminder via text.
5. Automate Cancels and Reschedules
In addition to auto-canceling unconfirmed appointments, you can give your customers ability to cancel or reschedule appointments on the spot. With this functionality, you can eliminate unnecessary appointments when customers no longer need service. Plus, you can route inbound calls for any appointment reschedules to IVR and manage inbound call volumes. This reduces the burden on contact center teams and shortens customers' call wait times.
Taking a strategic view of customer contact empowers service providers to give customers precise appointment windows and fosters brand loyalty in the fiercely competitive "Switching Economy." You can also eliminate unnecessary dispatches and cut associated waste and costs for measurable improvements to your bottom line.
****
A version of this article was previously published in Field Technologies Online.
Save
Author:
Mark Wilburn
Mark Wilburn brings over 25 years of proven accomplishment in full life cycle software development and technical project management in the telecommunication industry. Mark is responsible for charting the technical direction of the company's products and service offerings and for managing day-to-day technology and support operations. He has a proven track record of understanding complex business problems and gathering system requirements and delivering technologically advanced designs and systems.
At SkyCreek, Mark has built a highly responsive and innovative IT organization. Mark's team aligns technology initiatives with customer business goals to deliver substantial improvements in service delivery, process standardization, and business/systems performance. Mark also brings an extensive telephony-specific domain experience with Service Order systems, Provisioning systems, Verification systems, Billing systems, Error Adjudication and end user Customer Contact systems. Prior to SkyCreek, Mark held R&D leadership positions with Telic Corporation, Computer Sciences Corporation, Call Technologies, 3Com, and UTStarcom.