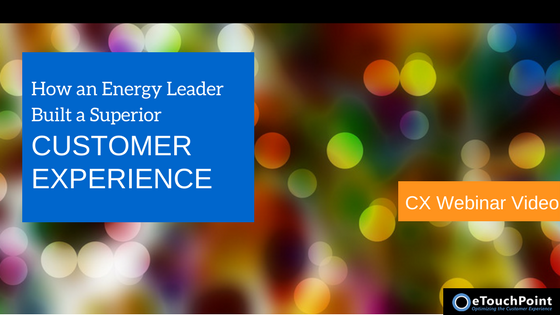 Operational excellence has long been the #1 priority for power and utility companies–but today's customers expect a different relationship with their service providers. A leading energy company recognized a need to deliver a superior customer experience. In this video replay of our webinar from November 2017, you can learn how this forward-thinking company:
Adopted a more proactive appointment setting approach
Eliminated costs by reducing unnecessary appointments and "can't-get-in" scenarios
Moved from a paper-based to an automated feedback gathering process
Shortened the window for CX feedback collection from months to days
As you prepare for the next steps in your CX journey, you can apply proven customer messaging and CX principles that delivered quick wins and helped one company position itself as a service leader.
Author:
Connie Harrington
Connie is a content strategist and serves as managing editor of the eTouchPoint blog. Possessing 15+ years of international experience across five continents, her focus areas include: customer experience management, customer contact management, communications planning, content marketing, email marketing, and employee engagement. Previously, she held marketing and communications leadership positions at CGI, Mindwrap, and TEOCO. She earned a B.A., cum laude, from the College of William and Mary in Virginia.