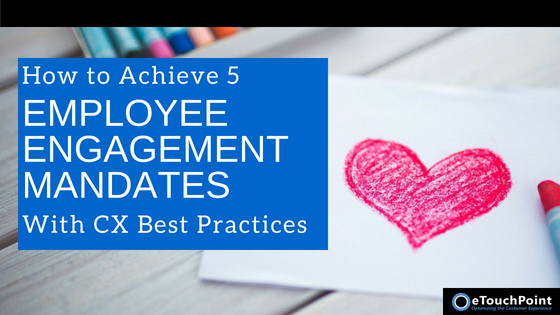 Companies are embracing the importance of customer experience (CX)–but may be struggling to put it into practice. One reason: They have not yet acknowledged the essential link between employee engagement and CX.
If you haven't quite figured out the employee engagement puzzle, you're not alone. Only around 1/3 of U.S. employees feel engaged at work, while nearly 1/2 of employees feel actively disengaged.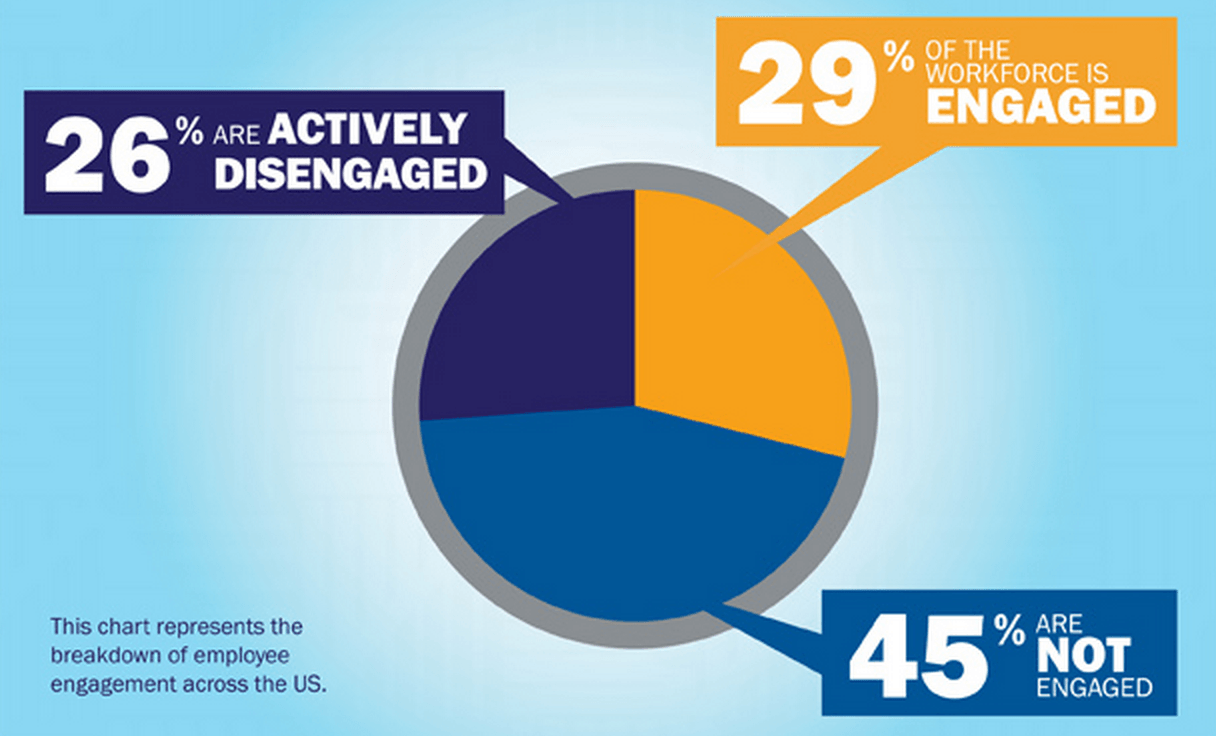 Image Source: Snacknation
Why is employee engagement so important anyway? Your team members–especially those on the front lines with customers–represent your brand to the outside world. If they feel discouraged about work, employees are likely to portray damaging, negative messages about your company. The reverse is also true. When employees feel satisfied in their work, they will exude those positive feelings in customer interactions:
When employee happiness can carry over to their day-to-day conversations with customers, it will be apparent that agents enjoy their job and company. That excitement will be evident through chat systems, phone calls, and emails. It shouldn't be taken for granted that feeling of purpose walking into the office every day, wanting to make a difference in your company. When top executives exude excitement, agents will want to do the same down the line for customers.
Linking Employee Engagement to CX Best Practices
How can you build an engaged, people-focused culture? Employee engagement isn't just a human resources initiative you can cross-pollinate ideas and practices from your CX program to foster stronger internal engagement. Our white paper "How to Achieve Employee Engagement Mandates with 5 CX Best Practices" outline five essential steps:
Link customer metrics to employee engagement
Cultivate inspirational leadership
Empower frontline managers
Help employees find success & meaning at work
Celebrate positive outcomes
Your business can beat the engagement slump, attract top talent, and build a team that keeps customer needs at the heart of all they do.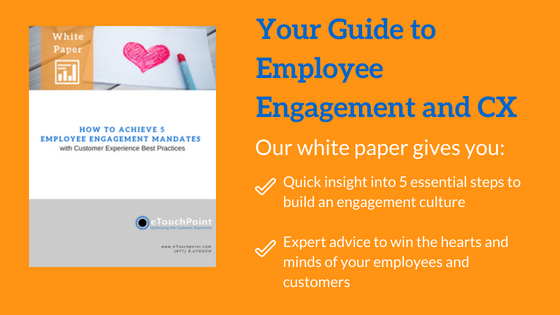 Author:
Connie Harrington
Connie is a content strategist and serves as managing editor of the eTouchPoint blog. Possessing 15+ years of international experience across five continents, her focus areas include: customer experience management, customer contact management, communications planning, content marketing, email marketing, and employee engagement. Previously, she held marketing and communications leadership positions at CGI, Mindwrap, and TEOCO. She earned a B.A., cum laude, from the College of William and Mary in Virginia.