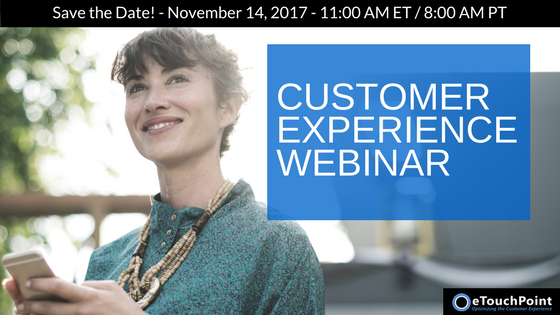 Research firm Forrester has found that nearly 3/4 of all companies consider improving the customer experience (CX) to be their #1 priority. Join us on November 14, 2017 at 11:00 AM ET/8:00 AM PT for a CX webinar to learn how one company with big CX ambitions achieved several quick CX wins.
In this CX webinar we will highlight specific best practices in customer messaging and CX feedback that helped this leader transform their end-to-end customer experience.
Smart Solutions, Quick Wins
With smart investments in automated customer messaging and customer feedback, the company built an end-to-end customer experience practice that:
Enhanced the appointment reminder process by enabling 2-way communication with customers via IVR, SMS, and email messaging

Significantly reduced "Can't Gain Access" and "Not at Home" instances for its Field Technicians

Shortened the CX feedback and survey process from months to days, enabling the company to highlight and act on negative customer feedback quickly

Leveraged customer feedback to improve customer support and front-line employee performance
CX Best Practices
Through our CX webinar on November 14, 2017, you will learn specific best practices in automated customer messaging and CX surveys to transform your customer-facing practices. Find out how leading service providers have used customer feedback to fine-tune their front-line operations and deliver standout customer experiences.
Author:
Connie Harrington
Connie is a content strategist and serves as managing editor of the eTouchPoint blog. Possessing 15+ years of international experience across five continents, her focus areas include: customer experience management, customer contact management, communications planning, content marketing, email marketing, and employee engagement. Previously, she held marketing and communications leadership positions at CGI, Mindwrap, and TEOCO. She earned a B.A., cum laude, from the College of William and Mary in Virginia.