3 Inspiring Stories of Visionary CX Leadership
eTouchPoint
Zappos, Chik-fil-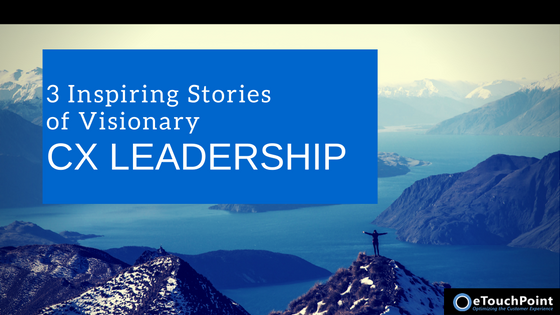 A, Ritz Carlton. Those 3 brands are synonymous with delivering exceptional customer experience.
What's their secret? An intense commitment to customers that starts at the top.
---
How Customer-Obsessed Brands Engage Employees
eTouchPoint
CX-savvy businesses understand the link between great service and engaged employees.
Here's how Nordstrom, Whole Foods, and Southwest Airlines inspire their teams. Learn from the vision and leadership of these recognized CX all-stars.
---
5 Ways to Cultivate Leadership Support for Customer Experience
Customer Think
Are your leaders on board with your CX efforts?
One way to gain support is meeting with each stakeholder personally.
G
ain 5 Tips to Win Exec Buy-In
---
3 New Insights that Make the Case for More CX Investment
My Customer 
It's inevitable that executives will want to know the ROI of your company's CX investments.
Analysis from Forrester clarifies the link between CX and revenue.
---
Author:
Connie Harrington
Connie is a content strategist and serves as managing editor of the eTouchPoint blog. Possessing 15+ years of international experience across five continents, her focus areas include: customer experience management, customer contact management, communications planning, content marketing, email marketing, and employee engagement. Previously, she held marketing and communications leadership positions at CGI, Mindwrap, and TEOCO. She earned a B.A., cum laude, from the College of William and Mary in Virginia.