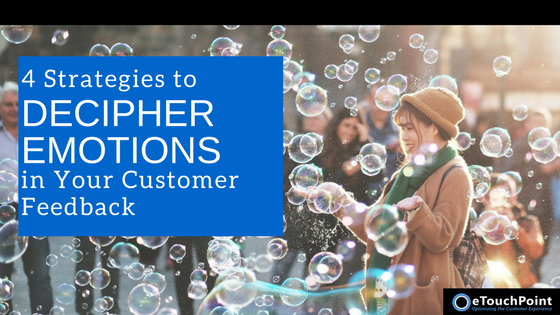 We are all consumers of products and services. As such, we are driven by our emotional associations with those experiences. Take a moment to think about your best and worst customer service experiences.  
What about when you were crunched for time, but had to stop at a store and an employee went above and beyond to help you find that one item you were desperately seeking?   
Did you tell friends of your appreciation and relief that the store had the item you needed?  

Have you found yourself returning to that store often, even though you could shop around and find the same products elsewhere, possibly for a reduced cost?  

Do you value the quality products and excellent service over potential savings?
Do you remember a time when you left a restaurant seething over poor service, bad food, or a long wait?  
Have you been back to that restaurant?  

How many people did you talk to about the frustrating experience?  

When asked for suggestions of restaurants, have you ever recommended someone go there–or advised against it?
Emotions–positive ones or negative ones–stay with customers long after any interaction. They may forget the particulars of the situation, but they'll likely never forget how the experience made them feel: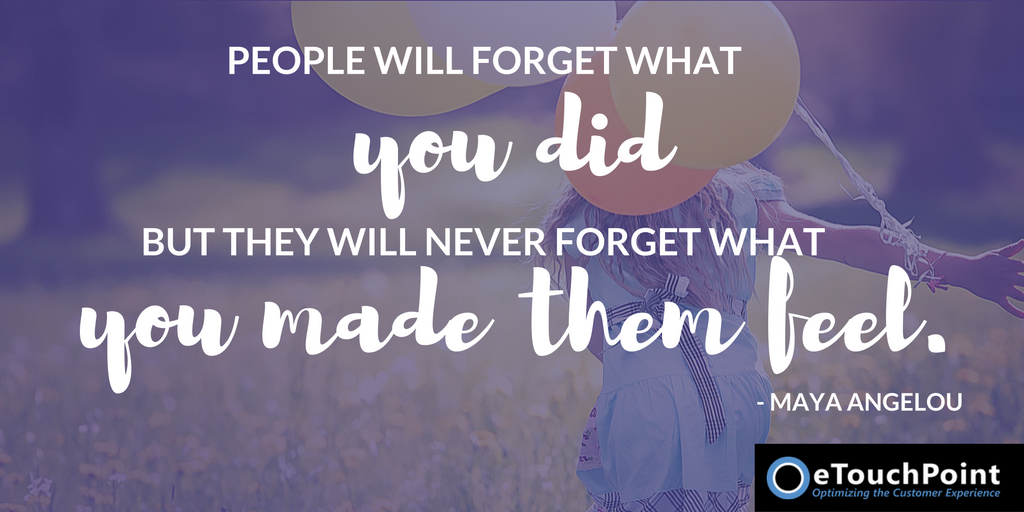 As someone focused on improving customer service in your company, it is likely you have an abundance of ratings, scores, and survey responses to review and analyze.  Those details and reports are very valuable and contain great insight.  However, to advance your CX practice, you need strategies to understand customer emotions.
The Link Between Customer Emotions and Loyalty
There is often a misconception that emotions shouldn't be part of professional or business discussions.  In today's market, that is being proven highly untrue.  Feelings are a key driver of loyalty, which results in increased sales.  According to  Vic Horky of Brand Embassy, "Customers with positive associations with a brand will spend up to 200% more and will also tell an average of eight friends about them."  
If your team members, from top management to the front-line employees, are comfortable talking about emotional responses and focusing on creating positive feelings for customers, then it is likely they have developed a level of empathy necessary to start building the emotional connection.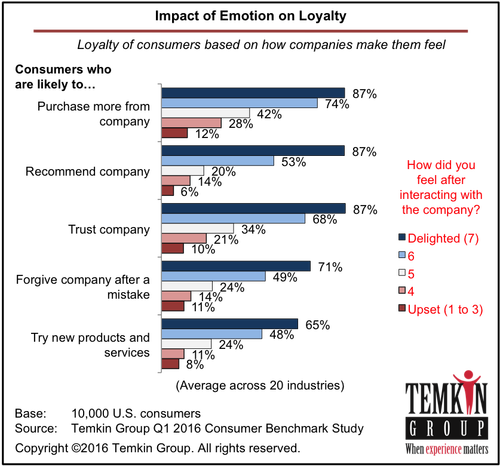 Image Source: Temkin Group
The chart above demonstrates the correlation between a consumer's feeling about, and their loyalty to, a company.  When comparing customers who are very pleased, to those who are upset with a company, the delighted customers are 75% more likely to purchase from the company again and 58% more willing to try new offerings in the future.  
4 Strategies to Decipher Emotions in Your CX Feedback
You need to understand, and focus on, providing a positive emotional response with your customers.  To start, research and learn how your customers are currently feeling about your company.  According to IDC, 79.2% of customer feedback in the form of unstructured data (emails, social media, open ended survey responses, etc.), that is your best resource for uncovering the current emotional connection you have, or don't have, with your customers.  
Here are a four methods for analyzing emotions in your unstructured data.
1. Five A's of an Emotional Response
Temkin Group, a noted CX think tank, advocates using five emotions to place customer feedback into common-sense categories for analysis.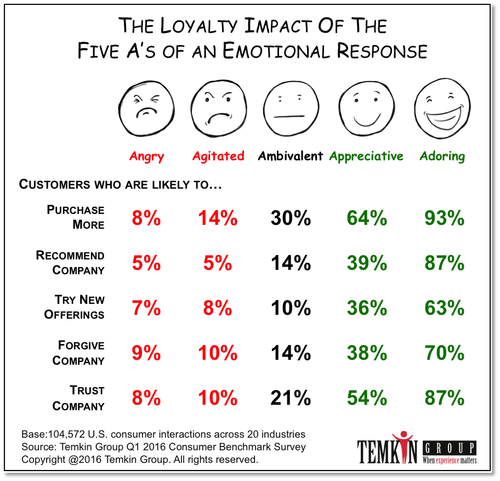 Image Source: Temkin Group

As you can see above, the Five A's aren't just words, they're a strong indication of the loyalty of your customers. Compared with those who feel "angry," customers who feel "adoring" are:
More than 11 times as likely to buy more

17 times as likely to recommend the company

9 times as likely to try new offerings

6 times as likely to forgive the company if it makes a mistake

10 times as likely to trust the company
2. Net Emotional Value (NEV)
Another CX thought leader, Colin Shaw, has been a proponent of the Net Emotional Value (NEV) model. As he explains:
"The Net Emotional Value (NEV) refers to the single number that represents the emotional value you provide to your customers. To calculate the NEV, determine the balance between the positive and negative emotions a customer feels about their experience with your organization. The "Net" in NEV refers to the net effect of those emotions for customer loyalty and retention."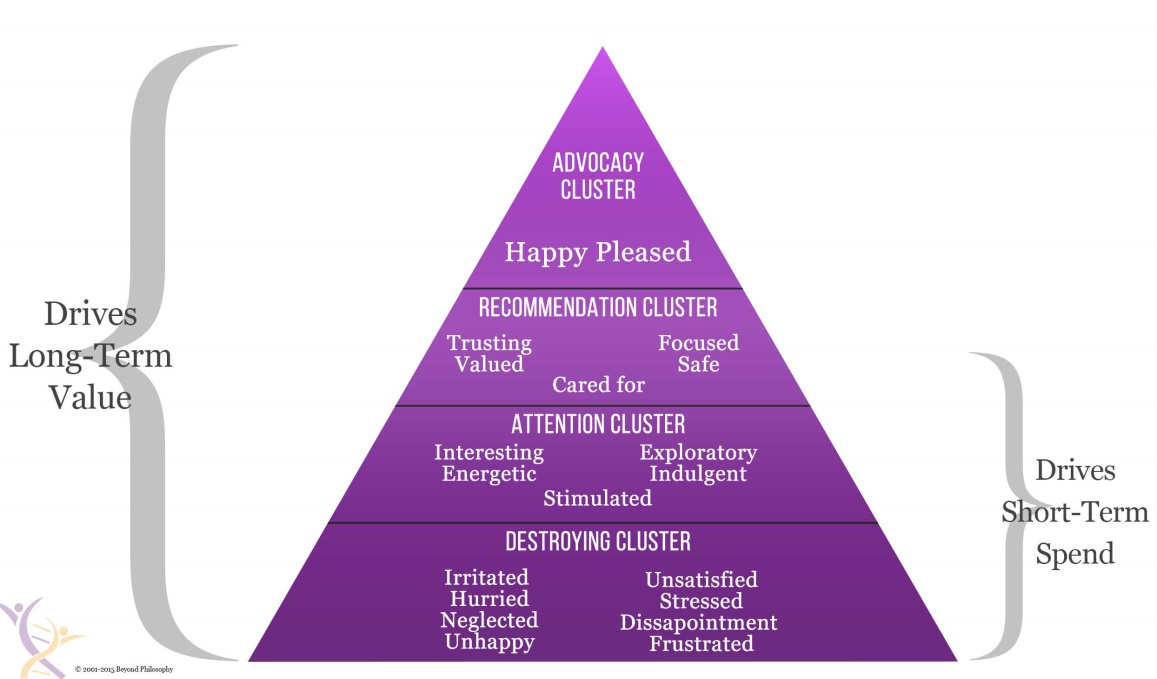 Image Source: Beyond Philosophy
3. Joy, Anger, Sadness, Fear

A joint study by the Temkin Group and Mattersight personality Labs created another approach to structuring customer feedback based on emotion.
By focusing on these four emotions when reviewing verbatims or unstructured data, you can achieve a basic breakdown of key insights into customer perceptions.  An example analysis provided below.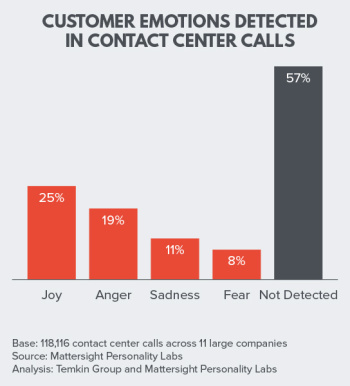 Image Source: Temkin Group
4. 6 Core Emotions in Customer Experience
Companies must recognize that the emotional connections created by customer interactions have an enduring impact on brand perceptions. Another model defines six fundamental customer emotions—three positive and three negative.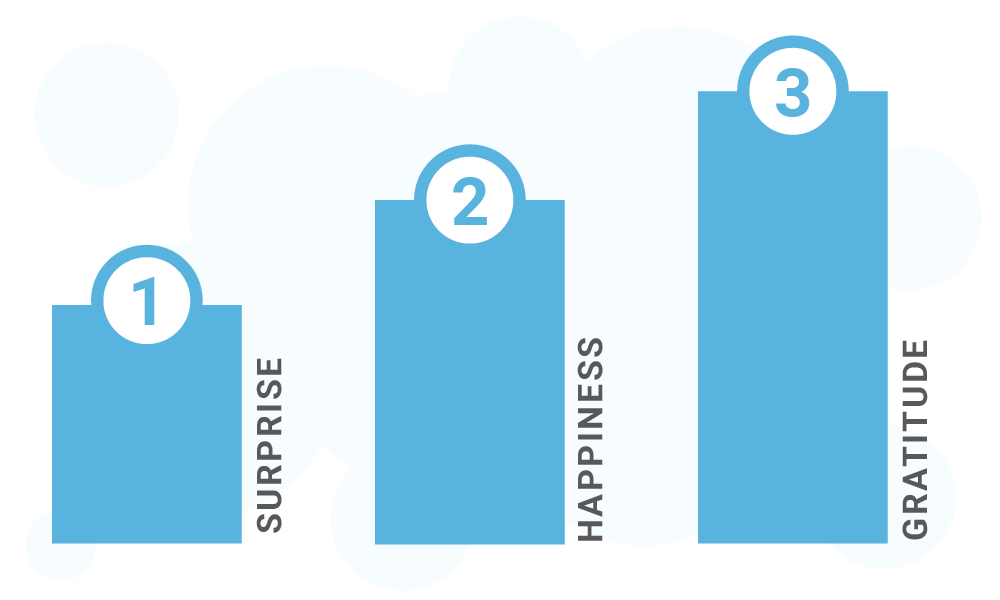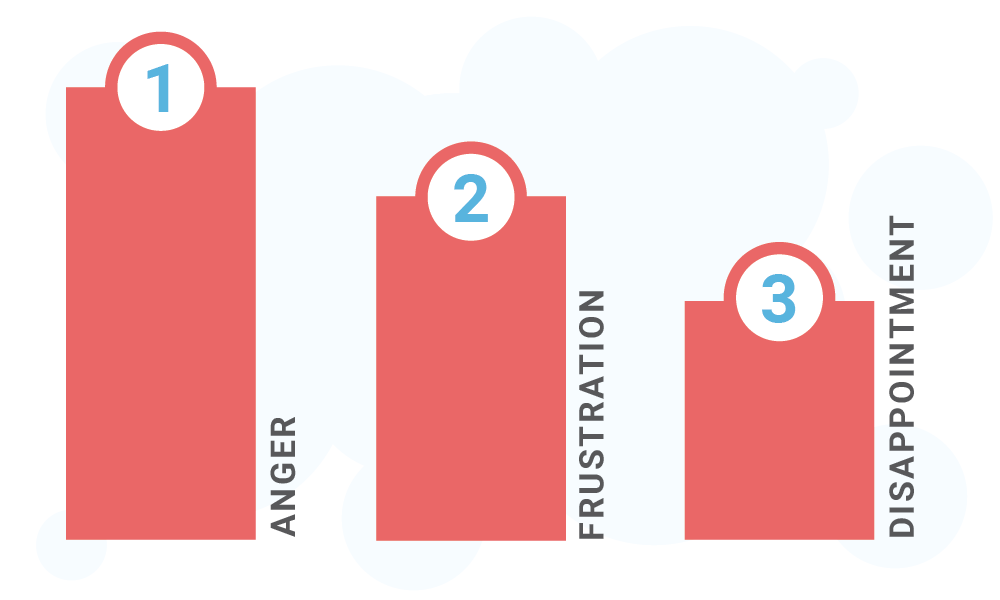 Image Source: Brand Embassy
The Science of Customer Emotions
The practice of CX is constantly adapting to technology, the market and the customers.  With emotions proving to be potentially the area of greatest impact to a business's bottom line, the study of them is quickly expanding.  In a Harvard Business Review article, it has even been deemed a new 'science'.   This article includes interesting insight on "emotional motivators".  These are natural human desires that have the power to drive customer behavior.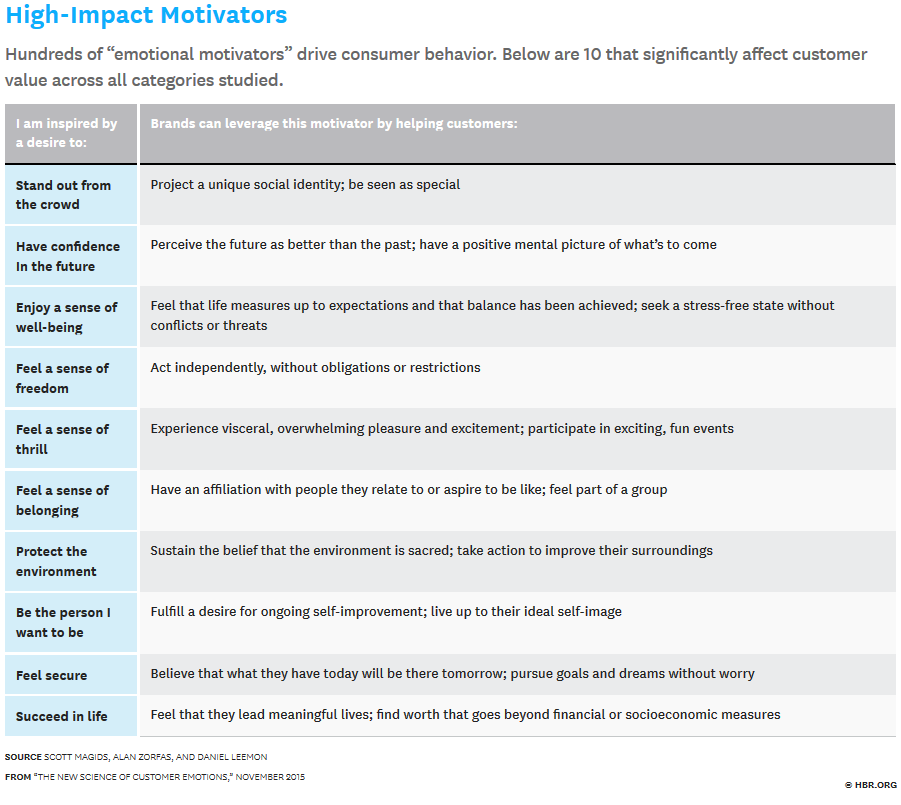 Image Source: Harvard Business Review 
Creating the Emotional Connection
Every customer interaction is an opportunity to foster positive feelings about your brand—and fortify customer loyalty. This is a big goal, but companies can break it down in to smaller, more manageable steps. Here is where to start:
Understanding industry-tested models for categorizing customer emotions

Allowing customers to provide unstructured feedback at every interaction

Studying feedback to identify the resulting emotional connections

Sharing customer verbatims with employees to foster stronger customer understanding and empathy
As CX takes on heightened importance, companies need to remember that emotions are the heart of every experience. Customers today have more choices than ever. It is often no longer enough to provide the best products or the most competitive prices. Instead, companies need to focus on creating positive emotions for their customers–to motivate enduring loyalty and brand advocacy.
Save
Save