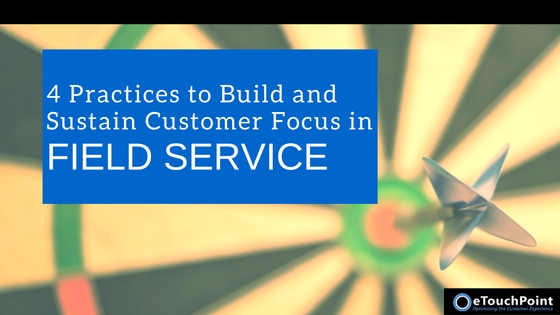 Many organizations have field service operations that have direct contact with customers—typically in customers' own homes or businesses. This makes field service a highly-visible organizational component, with a strong influence over customer perceptions.
Field service professionals have a unique opportunity to deliver positive customer experiences (CX) that set their company apart. Are field service professionals achieving this goal? Industry research offers mixed perspectives.
One well-known study found that the American economy lost nearly $38 million due to waiting for in-home appointments in a single year. Historically, long waits and unpredictable arrival times have plagued field service—and diminished customer trust.
However, according to a 2015 cross-industry study, over 80 percent of customers gave positive ratings to the most recent field service visits that they have received: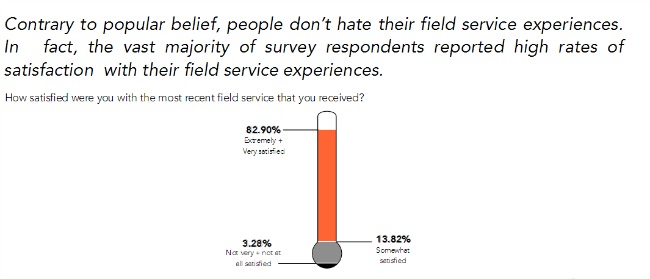 Source: Service Max, 2015
This is good news for field service professionals—as a whole. Still, maintaining customer focus requires constant vigilance. And those companies that have not yet achieved consistent high rankings from customers can apply best practices to build a customer-centric field service organization.
1. Apply Common Performance Metrics
Today's businesses face many competing pressures—and may not see optimizing field service as a top strategic asset. As management consulting firm, Bain and Company explains, companies may understand a need to make field service operations run more smoothly, but not know how to accomplish this goal. Using standard metrics across the organization can give companies insight into the effectiveness of their operations—and customer experiences delivered by their field service representatives.
Traditionally, many companies have decentralized field service units—which leads to differing processes and limits opportunities to adopt industry best practices across the enterprise. In addition, data collection across units can be inconsistent. This can hamper a company's ability to assess the performance of their field teams or the entire field service operation.
To address this challenge, organizations should adopt a common set of performance metrics and incentives. Organizations can measure utilization, work rates, and hourly cost to gauge the effectiveness of day-to-day operations. In addition, companies can collect customer feedback and use industry-standard CX metrics to understand customer perceptions and learn how to meet customer expectations.
2. Create a Service-Centric Culture
In the past, businesses may have had difficulties tracking the effectiveness of field service employees—who could work at their own pace, out of the direct view of management. Many field technicians find this lack of oversight appealing, with 92 percent citing being independent as their favorite aspect of their work in one survey.
However, that same survey found that 91 percent of field technicians cited improving customer service as one of their top goals. Companies can capitalize on this desire to service customers by building a customer-first culture—and supporting it by providing the education and resources field reps need to deliver quality customer experiences.
3. Recognize the Human Element in Field Service
Unlike other types of service interactions—such as contact center calls or online chats—field service is not anonymous. Instead, field representatives have an opportunity to put a human face on a brand and make a lasting impression in the minds of customers.
Several studies have validated that fixing issues on the first visit is the #1 concern of customers. To accomplish this, technicians need knowledge, the right tools, and accurate information about the job.
Competence and efficiency is always going to be important to customers. Still, research also shows that building trust and positive relationships can influence customers' willingness to engage field service professionals. According to the 2015 State of Field Service Study, when given a choice, most customers rely on personal recommendations from friends and family to select a field service organization or technician.
What does this mean for field service managers? A good field representative needs a solid mix of technical know-how and people skills. A warm personality and a focus on doing whatever it takes to solve customer problems are desirable traits for field employees.
4. Embrace Change
The practice of field service is evolving quickly across all dimensions—people, process, and technology. Forward-thinking companies stay on top of industry trends—and prioritize changes that make business sense for their operational environment.
People
On the personnel front, many organizations have solid staffing levels now, but are bracing themselves for resource shifts as older workers retire. A study from The Service Council (TSC) found that 55% of field service leaders expressed concerns about increased workloads and an impending loss of experienced employees. The coming years will see heightened focus on hiring, training, and knowledge transfer.
Process
According to TSC, field service organizations are often reviewing and modifying their processes. In the past, their emphasis was on cost containment and productivity. Customer satisfaction has taken center stage as an important goal in process realignment.
Technology
Many emerging technologies hold great promise for improving field service operations. As Internet adoption has become nearly universal, customers have grown to expect that their field technicians will use internet-enabled devices to speed repairs. Wearable technologies, image sharing, mobile messaging apps, and virtual reality all have the potential to revolutionize field service.
Delivering CX Excellence
Companies are embracing the truth that CX is an essential differentiator. As they design CX initiatives, they should recognize the dramatic impact that field service has on customer perceptions and loyalty. As Aberdeen Senior Research Analyst, Aly Pindar explains:
Field service technicians are quite often the only representatives that ever set foot on a customer site to support customer service activities. In many cases, the type of service work done or information communicated by field technicians is the primary way for customers to truly measure the integrity, credibility, effectiveness, and overall brand promise of the servicing organization. As a result, a good field service experience can make all the difference in determining customer commitment (loyalty) and future spending plans.
Aberdeen research has also affirmed that a strong focus on customer service in field service can yield measurable financial gains. Organizations that achieved a 90+ percent positive rating for customer service attained 6.1 percent growth in service revenue and 3.7 growth in overall revenue.
Without question, companies must view field service as a strategic asset in today's era of the empowered customer.
Save
Save
Save
Author:
Connie Harrington
Connie is a content strategist and serves as managing editor of the eTouchPoint blog. Possessing 15+ years of international experience across five continents, her focus areas include: customer experience management, customer contact management, communications planning, content marketing, email marketing, and employee engagement. Previously, she held marketing and communications leadership positions at CGI, Mindwrap, and TEOCO. She earned a B.A., cum laude, from the College of William and Mary in Virginia.