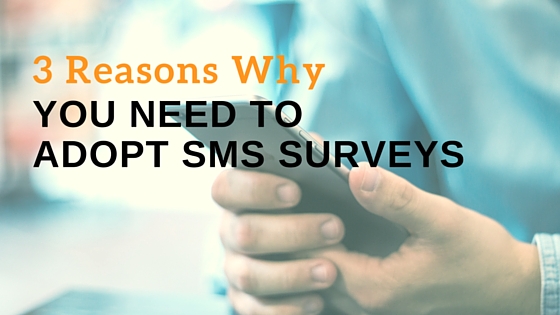 It's no secret that CX programs thrive on data. And CX practitioners face the continual challenge of how to collect more feedback from customers—in an information-saturated world.
Survey fatigue is a very real problem for today's customers. People receive so many requests for feedback that they often ignore new solicitations. And even if they accept an invitation, customers can grow frustrated with too many questions or complicated survey formatting.
What can companies do about this common problem? One answer is using the communications approach customers' prefer—SMS and smartphone-enabled solutions—to unlock higher levels of customer insight.
SMS is ubiquitous, easy-to-use, and offers an impressively strong call-to action. If SMS is not integral to your brand's feedback gathering approaches, you need to reevaluate your practices.
Need more validation? Take a look at these three trends that prove that SMS is the feedback gathering wave of the future.
Trend #1: SMS is the Top Mode of Communication for Many Adults
In recent years, many companies have relied predominantly on one feedback gathering method: email invitations linking to a web-based survey.
Why is this format so popular? Two reasons: it's relatively inexpensive and easy to administer.
The problem with this one-size-fits-all feedback gathering approach is that does not drive action. Feedback requests easily get lost in customers' inboxes—especially if there is more than 24 hours' lag between an interaction and the survey invite.
Another reason for the decline in email responsiveness: more adults are turning to SMS.
According to Pew Research, as of 2014, 90% of all U.S. adults had a cell phone, with 60% owning a smart phone. And cell phone adoption among adults between 18 and 49 approached 100%.
A separate 2014 study from Gallup affirmed that texting is the most-used method of communication among adults under age 50.
Even more compelling evidence of the power of SMS comes from a Shift Communications survey: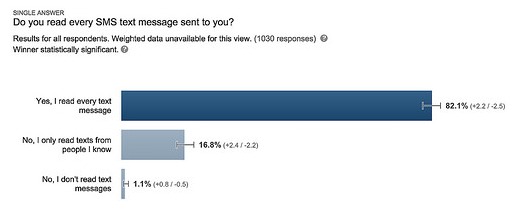 Source: Shift Communications, 2015
That research revealed that 82% of survey respondents read every text message they receive—even ones from contacts they do not recognize.
Another key data point: nearly 70% of people check their phone for new messages at least one time each hour: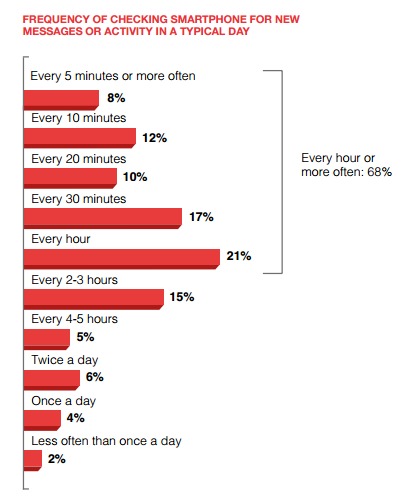 Source: SAP, 2014
The takeaway is clear. If you send SMS survey invites, your customers are likely to take notice—and take action.
Trend #2: Consumers Want More SMS Communications from Businesses
Although it is obvious that people use SMS frequently, does that mean that they want companies to contact them via text? 2014 research from SAP indicates a resounding "yes."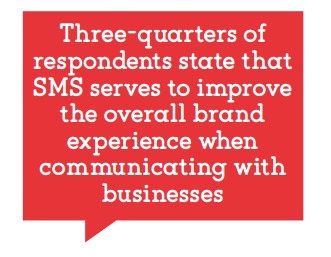 Source: SAP, 2014
In that study, 74% of respondents said they have a positive impression of businesses that engage with them via text messaging.
In addition, 70% agreed that SMS is a good way for businesses to get their attention. And 64% said they would like to receive more SMS communications from businesses.
Only 17% indicated that they believe SMS messages from companies are intrusive. Using good communications practices—such as requesting permission and offering unsubscribe options—can ensure text survey invites reach the people most likely to respond.
Trend #3: SMS Offers High Response Rates Now—and Holds Massive Future Potential
At eTouchPoint, we have been in the business of helping companies collect and analyze customer feedback for more than twenty years. Over the years, we have had opportunities to observe different feedback gathering models and how they perform.
Here are insights on today's three primary modes of feedback collection:
Email/Web remains the dominant approach for many brands, because of its low cost and ease of use. However, its non-personalized nature and multi-step response process drives lower response rates.
IVR has been a feedback gathering mainstay for decades. It is the clear best choice for many transaction types – person-to-person interactions, call center interactions, etc – since it has a strong call-to-action and reaches customers directly on their phones.
SMS has proven its merits as a feedback gathering tool in Europe and Asia, but U.S. brands have been slow on the uptake. Yet SMS adoption by U.S. customers is widespread.
The following table provides a deeper look at the 3 primary CX feedback gathering options: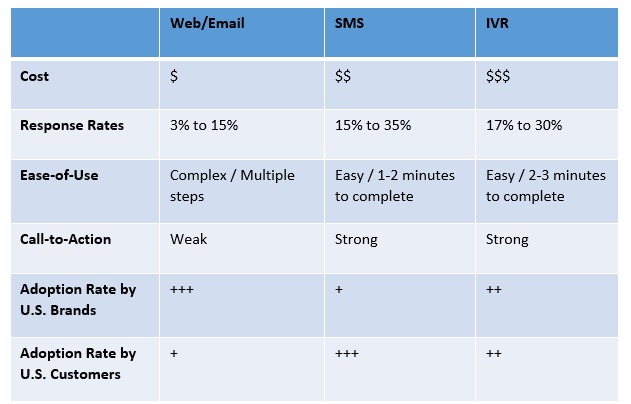 Source: eTouchPoint, 2016
Although gathering feedback via SMS is still in its infancy in the U.S., the response rates it generates parallel IVR—which has been in use for decades. Texting's success as a feedback gathering method ties to mobile's rapid adoption rates and the high open rates of text messages.
As SMS survey methods evolve, SMS response rates have the potential to surpass those offered by email/web and IVR. Clearly, those companies aiming for CX excellence must add SMS to their feedback collection mix—sooner rather than later.
Still for most brands, a multi-modal feedback gathering strategy yields the most meaningful customer insight.
Why? There are several reasons. First, while SMS has strong appeal among younger demographics, older adults are more accustomed to IVR. And since customers are apt to use multiple channels when engaging with brands, companies should mirror that approach when engaging customers.
Riding the SMS Feedback Gathering Wave of the Future
Right now there is a clear gap between customers' desire for more text-based business communications—and brand's adoption of SMS surveys. The opportunity is evident. Those companies that follow their customers' lead and accelerate the SMS feedback gathering can position themselves ahead of the competition.
Imagine the power of having more customers' read and respond to survey invitations. Think about how having more insight can drive deeper, more meaningful customer understanding.
But the value of using SMS to solicit feedback goes beyond what you can see and measure. Even customers that do not respond are likely to see feedback invitations—and know that their perspectives do matter and that they can influence the direction of their favorite brands.
This can build the intangible, emotional connection between a company and its customers that is the heart of long-term loyalty.
Author:
Connie Harrington
Connie is a content strategist and serves as managing editor of the eTouchPoint blog. Possessing 15+ years of international experience across five continents, her focus areas include: customer experience management, customer contact management, communications planning, content marketing, email marketing, and employee engagement. Previously, she held marketing and communications leadership positions at CGI, Mindwrap, and TEOCO. She earned a B.A., cum laude, from the College of William and Mary in Virginia.