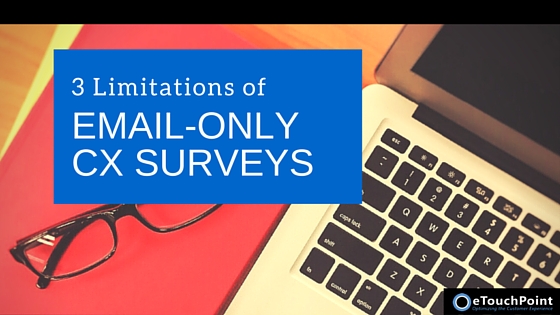 Email holds status as the most popular approach for gathering customer experience (CX) feedback approach. The reasons: easy implementation, low cost, and widespread adoption by consumers.
While email feedback gathering is easy to implement and maintain, there are drawbacks to email as a feedback collection mechanism:
Email is easy-to-ignore because it offers a weak call-to-action.
The response rates are lower with email than they are with IVR and SMS.
Relying only on email to gather feedback can create gaps in CX feedback gathering. When designing their feedback gathering approach, brands should understand the limitations of email-only surveys—but know why they should not abandon email completely.
3 Limitations of Email-Only Feedback Gathering
#1: The Email Process is Cumbersome
Collecting customer insights through email is a multi-step process that can feel cumbersome to information-saturated customers.
First, brands must send an email survey to a customer—and compete for attention all other emails in their inbox. Another risk: powerful spam filters may screen out survey requests and cause customers not to see them.
When customers do view survey invitations, they may not act on them right away. And unless customers take immediate action on a survey, they are likely to forget about completing it.
Another drawback: most email surveys route customers to a webpage to provide their feedback. This extra step can discourage customers who have grown accustomed to speedy online interactions.
And brands can be overzealous in their quest to capture insight. Many create long, complex web-based surveys that can frustrate customers and cause them to quit providing answers and click away.
#2 Delayed Emails Can Dim Emotional Responses
Many customers only respond to surveys if they have an emotional reaction to their engagement with the brand. Seeking insight as soon as possible after an interaction is a best practice.
However, with email, it's easy to delay survey invitations. Companies may opt to disseminate survey requests in batches—instead of sending them after each interaction. When customers do receive an email survey invitation—even if it's a day later—their feelings may be less intense. And they may have forgotten key details about the transaction.
#3 Emails Can Feel Impersonal
Today, most customers receive emails from organizations on a daily basis. And most are savvy enough to know these messages are part of a mass communication—and not a personal connection.
This makes tuning out survey requests all too easy.
By contrast, SMS surveys do feel personal even if they are scripted. They reach customers on their phones—which are within reach for most people at all times. SMS surveys can feel casual, quick, and conversational.
Customers are more likely to read and respond to survey invites that feel more personal—instead of staged, formal email survey solicitations.
Why You Shouldn't Count Email Out Yet
Despite the drawbacks, email is an important component of a well-rounded feedback gathering strategy.
In fact, 2016 consumer research from Marketing Sherpa has revealed that people appreciate receiving emails from brands. This is especially true when consumers opt-in to receive promotions, with 60% stating a preference for email. Email outpaced SMS, social media, and other forms of content delivery.
Companies should continue to capitalize on this consumer preference for email by strategically keeping emails as a component of their feedback gathering mix. For example, companies can prioritize email as a survey delivery method for customers who have opted-in for promotional emails. These consumers typically welcome a brand's emails and may be more attentive to survey request emails.
Quick Tips for Better Email Survey Response Rates
To get the best results from their email surveys, CX practitioners should follow proven best practices. These include:
Crafting a subject line that clearly states the purpose and time requirement
Featuring the first question in the email body—and linking customers to the full web survey when they click a response
Ensuring that surveys are short, focused on recent interaction, and easy for customer to complete
Avoiding over-surveying customers by sending no more than one survey invitation every 30 days.
By imitating the quick, candid nature of SMS surveys, email can achieve higher response rates.
Email is not going anywhere, but companies should refine approaches to capture more customer sentiment.
What's Next in Email Feedback Gathering
Email remains an essential component of holistic feedback gathering. For the best results, companies should use a mix of email, SMS, and IVR–integrate the feedback into a single reporting platform.
Today, forward-thinking companies are adopting a hybrid approach that uses the three most popular CX feedback gathering methods—SMS, IVR, and email—to reach a broad customer audience. These leaders ask customers their preferred contact channels—and use them. That ensures that customers who prefer emails do not receive unwanted SMS or IVR feedback requests—or vice versa.
Some companies take this a step further by using a back-up method if a customer does not respond to an initial feedback request.  In those scenarios, a customer who prefers email may get an email first, followed by a text reminder if needed.
Without question, email feedback gathering is here to stay—despite its limitations. Careful attention to email survey best practices can help companies reach the best response rates and attain the most feedback from customers.
Author:
Connie Harrington
Connie is a content strategist and serves as managing editor of the eTouchPoint blog. Possessing 15+ years of international experience across five continents, her focus areas include: customer experience management, customer contact management, communications planning, content marketing, email marketing, and employee engagement. Previously, she held marketing and communications leadership positions at CGI, Mindwrap, and TEOCO. She earned a B.A., cum laude, from the College of William and Mary in Virginia.