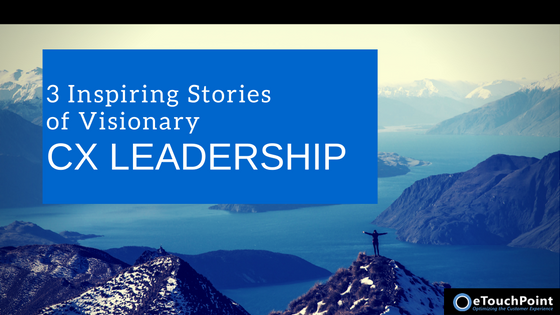 Everyone recognizes exceptional customer experiences (CX) when those encounters happen. And most people can list brands that deliver great experiences consistently.
But what does it take to become a company that is synonymous with exceptional CX? There are many factors. One of them is a visionary leader who possesses an unwavering devotion to customers inspire their organizations to strive for CX excellence.
According to Harvard Business School professors, Jim Heskett, Earl Sasser, and Len Schlesinger—authors of What Service Leaders Know & Do—business leaders plays a pivotal role in motivating their organizations to deliver breakthrough service.
While customer-centric leaders display good general management qualities—strong communication and decision-making skills, and ability to motivate others through setbacks and triumphs—some key characteristics stand out. Leaders who inspire service excellence have greater skills in personal interaction that help them thrive in people-intensive, team-based organization.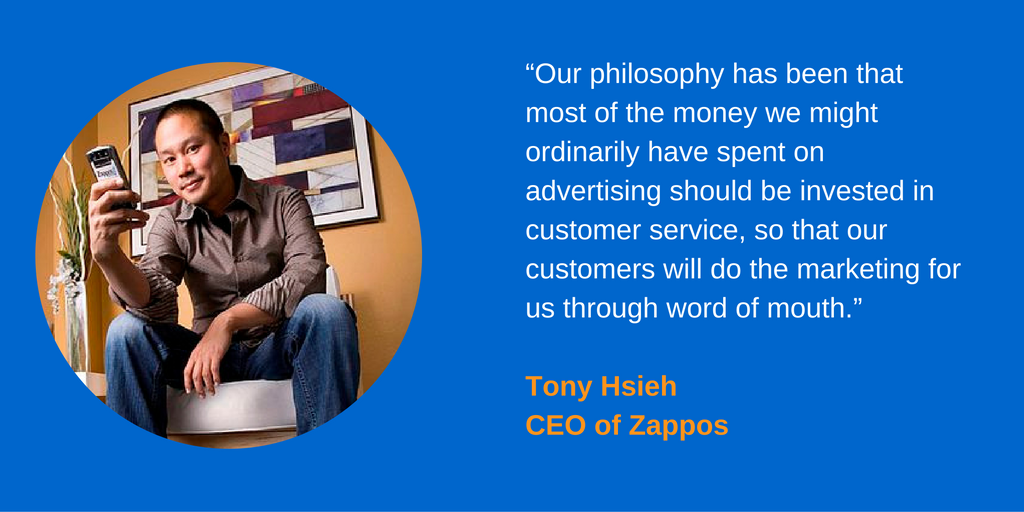 Zappos has earned a reputation for outstanding service in the hearts and minds of its customers. However, the company struggled with service in its earliest years. After surviving the dot-com crash of the early 2000, Tony Hsieh and other leaders knew Zappos had to make strategic changes to drive continued growth for its mail-order shoe buiness—and customer service was a critical focus area.
They saw finding the right employees for the company's call center to be a key area of opportunity. The reason? Although phone calls generated less than 5% of sales, most customers did make at least one call to the retailer. Hsieh and others saw those calls as chances to make a memorable emotional connection with customers that would win loyalty and inspire customers to become Zappos evangelists.
Zappos' commitment to CX inspired a major change. Executives moved the company headquarters from San Francisco to Las Vegas—a shift that gave them access to a more devoted service workforce and strengthened their company culture.
The move proved beneficial—sparking strong growth, expanded product lines, and an influx of local talent. Hsieh attributes this success to the fact that Zappos invested in "three key areas: customer service, company culture, and employee training and development."
Clearly, Hsieh and his team recognize that hiring and developing the right employees is key to delivering remarkable customer experiences.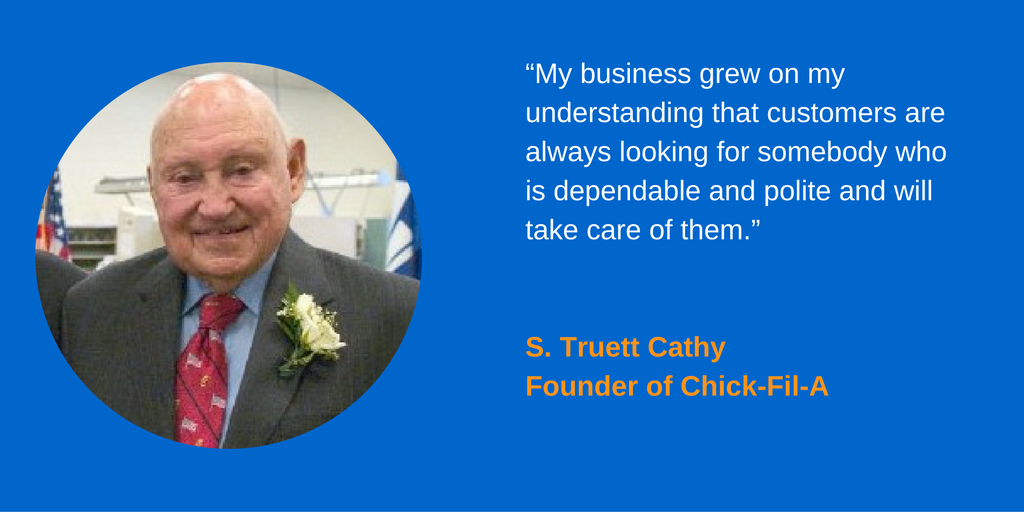 Most people don't expect quality service from a fast food chain—unless they are dining at Chick-fil-A. The company's commitment to efficient, personable, and memorable service has earned them high marks from customers and industry-watchers alike.
In 2016, Chick-fil-A attained the number #3 spot on the esteemed Temkin Experience Rankings, a cross-industry benchmark of CX performance.
What is the secret to the company's CX success? The vision and values of founder, S. Truett Cathy—who found "joy in giving" and serving others—have shaped Chick-fil-A's customer-centric culture.
Today, CEO Dan T. Cathy, Truett's son emulates the corporate values instilled by his father.  In recognizing Chick-fil-A with its Customers First Award, Fast Company noted that Dan Cathy shares his passion for "service and its intrinsic worth" to every employee in the company.
While speedy service is essential in every Chick-fil-A restaurant, managers coach employees to be polite and seek out ways to deliver distinctive service—instead of impersonal, rushed experiences.
Managers also take time to focus on little "extras"—such as placing flowers on every table—to enhance customer perceptions. And the company seeks out customer feedback regularly, through surveys and focus groups.
This intense focus on customers has won the company many passionate fans—who excitedly spread the word about new locations and developments for their favorite restaurant brand.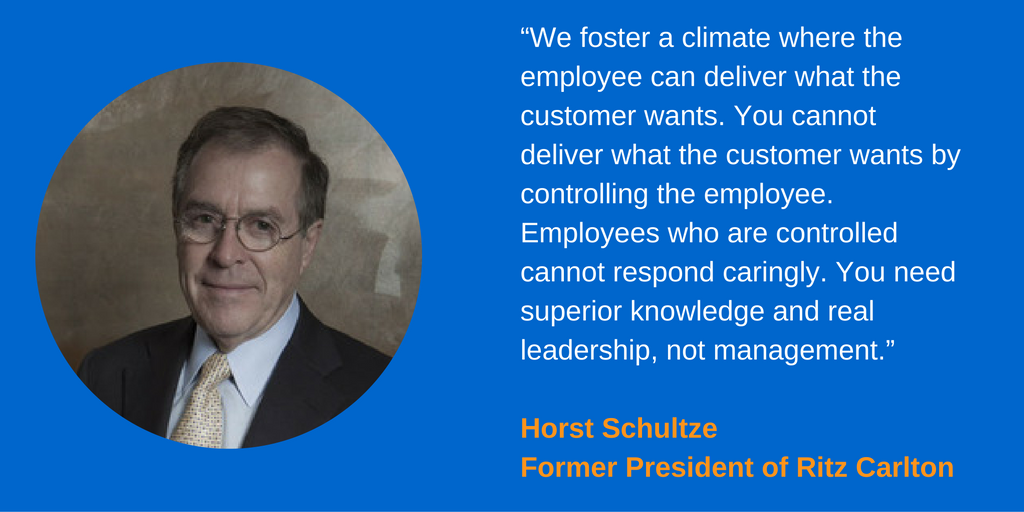 Think Ritz and the word "luxury" immediately comes to mind. Former Ritz Carlton president Horst Shulze deserves credit for this positive association—and for driving the brand's commitment to legendary service.
During his tenure at the helm of Ritz Carlton, Horst Shulze took a hands-on approach to hiring and training employees at many of the brand's hotels. He holds the personal belief that people will thrive when working in "an environment of belonging and purpose."
At Ritz Carlton, every employee learns the company's core purpose and values during a lengthy orientation process. Managers also hold 15-minute check-ins with their teams to review plans for each day, discuss notable guests, and share inspiring wisdom.
The result of all this emphasis on employee engagement is an empowered team that delivers standout service moments that delight guests. And the company encourage first-contact resolution for every customer concern, a philosophy that avoids problem escalations and motivates employees to keep customer needs at the forefront.
Envisioning CX Excellence
Behind the brands that win and wow customers are visionary leaders who know the value of serving customers. Still, most companies need to evolve to achieve higher levels of CX performance. And that evolution needs to start at the top.
Customer Experience is gaining the attention of executives—but research suggests their perceptions may be skewed. Eighty percent (80%) of CEOs believe their companies deliver high-quality customer experiences—but a mere 8% of customers agree.
Closing that gap takes time and effort—but leaders can use the examples of noted CX champions as a guide.
Save
Save
Author:
Connie Harrington
Connie is a content strategist and serves as managing editor of the eTouchPoint blog. Possessing 15+ years of international experience across five continents, her focus areas include: customer experience management, customer contact management, communications planning, content marketing, email marketing, and employee engagement. Previously, she held marketing and communications leadership positions at CGI, Mindwrap, and TEOCO. She earned a B.A., cum laude, from the College of William and Mary in Virginia.